(W) Kurt Busiek (A) Brent Eric Anderson (CA) Alex Ross
SRP: $3.99
Our 50th issue begins a special new story: Michael Tenicek lost his wife, years ago, to a chronal cataclysm. But he's not the only one in Astro City whose life has been upended by life among the superheroes. Today, we'll meet others, learn their stories and see how Michael-and friends-cope with their trauma. A sequel to the Eisner-nominated "The Nearness of You," considered by many to be ASTRO CITY's best story ever.
RATED T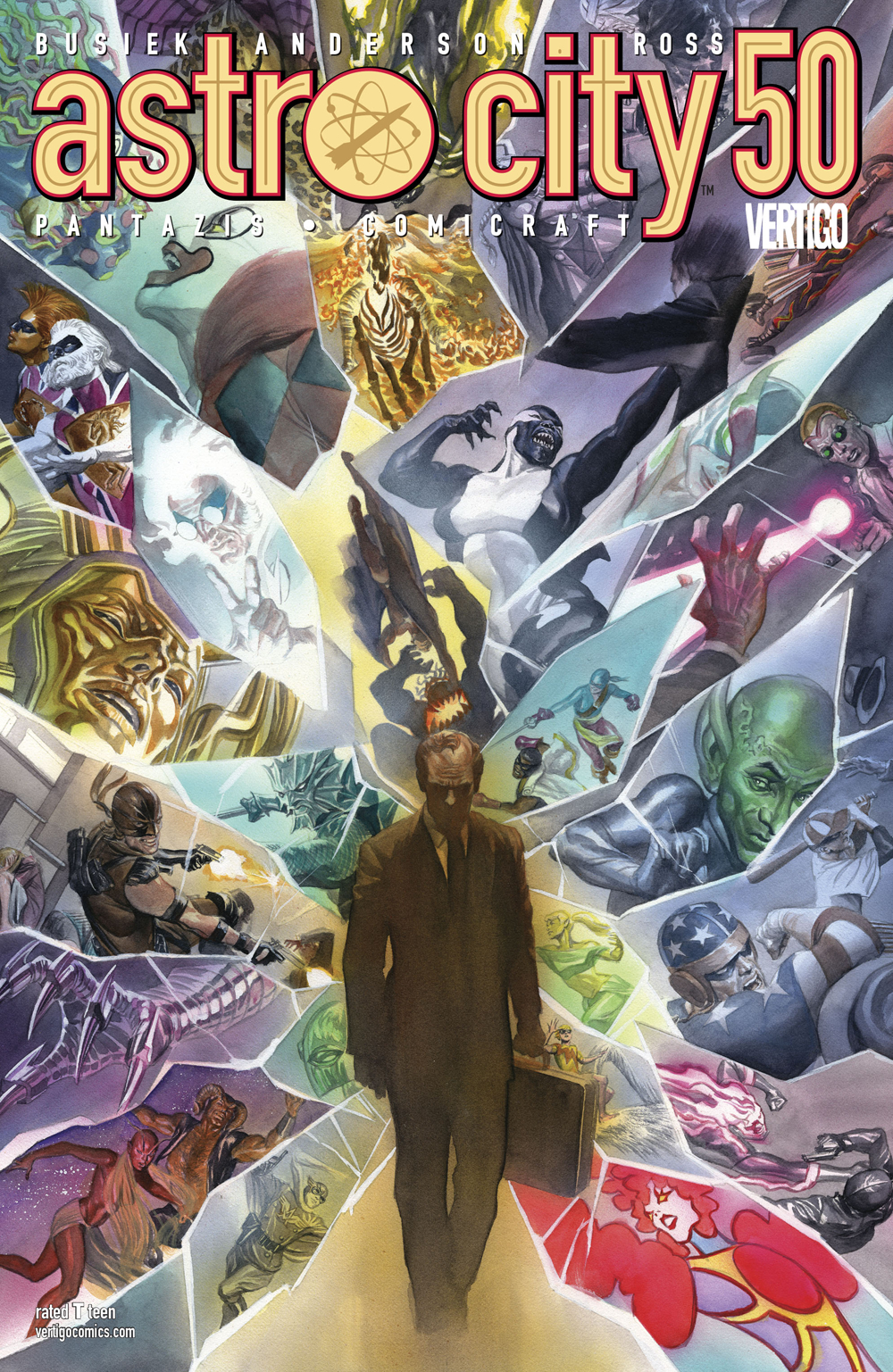 (W) Scott Snyder (A/CA) Greg Capullo, Jonathan Glapion
SRP: $3.99
The Justice League faces the final extinguishing of our world, invaded on all sides by unimaginable nightmares, fueled on to the edge of oblivion only by the belief that there must be a light in the endless darkness-somewhere. But...what if there's not?
FOIL-STAMPED, EMBOSSED COVER
RATED T+
(W) Christopher Priest (A) Denys Cowan, Bill Sienkiewicz (CA) Ryan Sook
SRP: $4.99
"An Innocent Man"! Team Defiance is pushed to the edge of oblivion when one of their own ends up dead-and Deathstroke is to blame! Is this the end of Slade Wilson's hero turn? It's all been building to this-don't miss the finale of "Defiance," the events of which will lead Deathstroke down a shocking new path!
RATED T+
(W) Frank Tieri (A) Inaki Miranda (CA) Amanda Conner
SRP: $2.99
"Man-Batter Up" part two! Harley was sure she knew who was targeting her friends-but man, was she wrong! Or should we say "Man-Bat, was she wrong!"? And if you thought Harley had anger issues before, wait until you see her juiced up with Man-Bat serum!
RATED T+
JLA DOOM PATROL SPECIAL #1
(W) Steve Orlando, Gerard Way, Magdalene Visaggio (A) Aco, Sonny Liew (CA) Frank Quitely
SRP: $4.99
"MILK WARS" part one! Welcome to the un-event of the year! Kicking off a line-wide adventure, DC's Young Animal collides with the DC Universe to bring you a different kind of crossover. The Doom Patrol has discovered that an interdimensional corporation called RetCo has been stealing stories, reconfiguring them and repackaging them for new markets. Our gang of misfit heroes have felt the touch of this nefarious company, and it has already started to change them. Even scarier, though, is how deeply RetCo has embedded itself into current continuity, using the radioactive milk of psychic cows to quell the more dangerous impulses of the Justice League and turn them into heroes safe for the masses. And to kick this off, RetCo has gone all the way to the top. Meet Milkman Man, heretofore unknown final son of Krypton, who was sent to our planet to save him from the destruction of his homeworld, only to be adopted by an evil dairy farmer and raised to love all things dairy! Co-plotted by Steve Orlando and Gerard Way, with art by ACO (MIDNIGHTER), this extra-sized special starts "Milk Wars" with a splash! Plus, who is Eternity Girl, and how does she connect to this whole scheme? A special four-part back-up feature by Magdalene Visaggio (Kim and Kim) and Sonny Liew (The Art of Charlie Chan Hock Chye) begins here.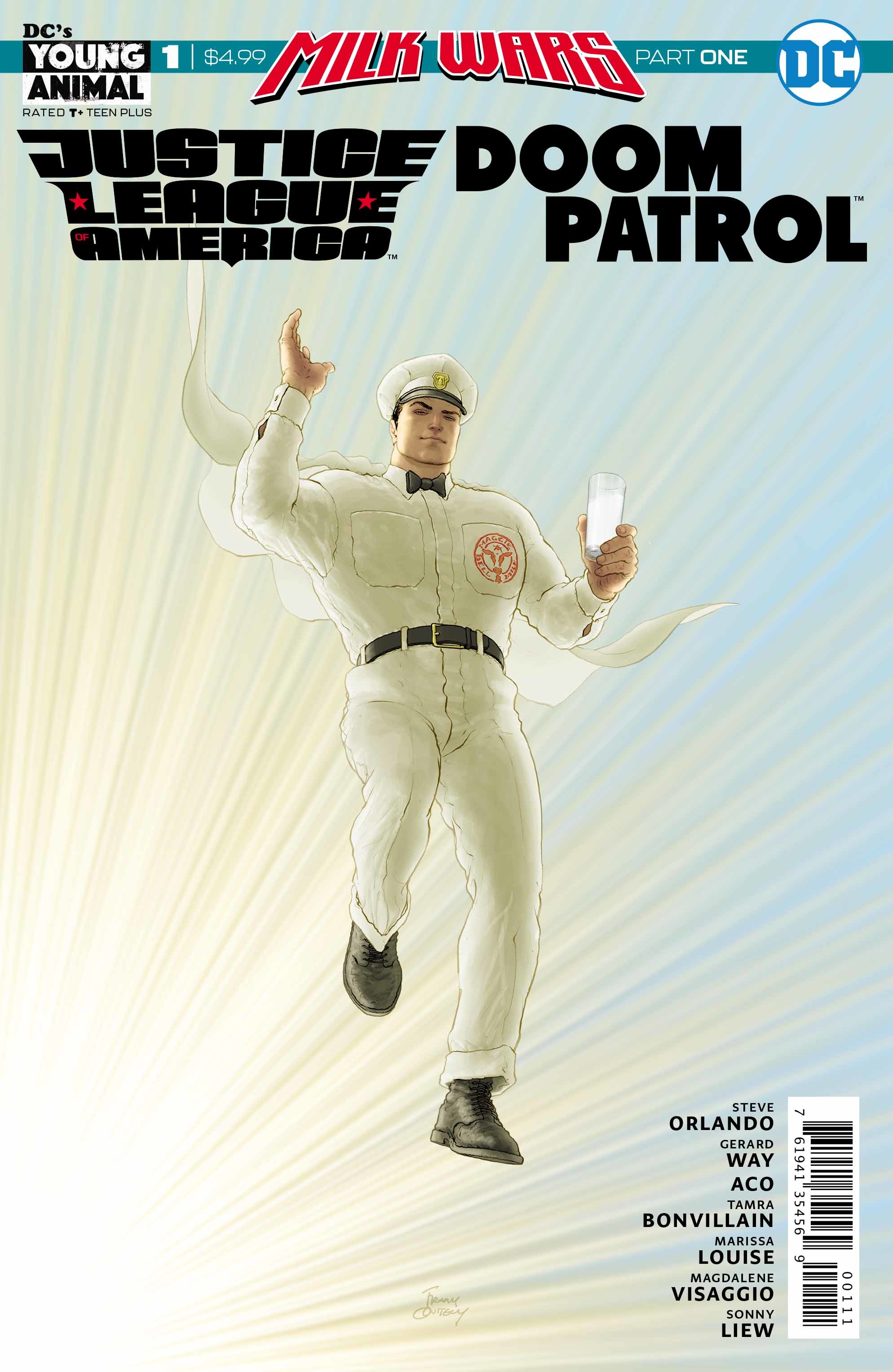 (W) Simon Spurrier (A) Rachael Stott (CA) Eric Canete
SRP: $3.99
In a crazed future where unhinged technologies and interconnected parallel Earths have given rise to a spectacular class of super-criminal, the most beloved celebrities aren't actors or rock stars, but the bounty hunters who traverse an exotic multiverse in search of impossible prey! But when the spotlight-shunning, strait-laced tracer known as Tab finds herself in an ultra-violent race for her greatest prize yet, she's forced to work with her greatest enemy, the only person capable of IDing him: her own elderly, overbearing and hypercritical mother, who was once the most fabulous and celebrated bounty hunter of them all.
A sci-fi action comedy blacker than dragon s***, MOTHERLANDS is the dimension-hopping, criminal-blasting story of two extraordinary women written by Si Spurrier (SUICIDE SQUAD, The Spire) with art by Rachael Stott (Star Trek/Planet of the Apes, Sex Criminals).
MATURE READERS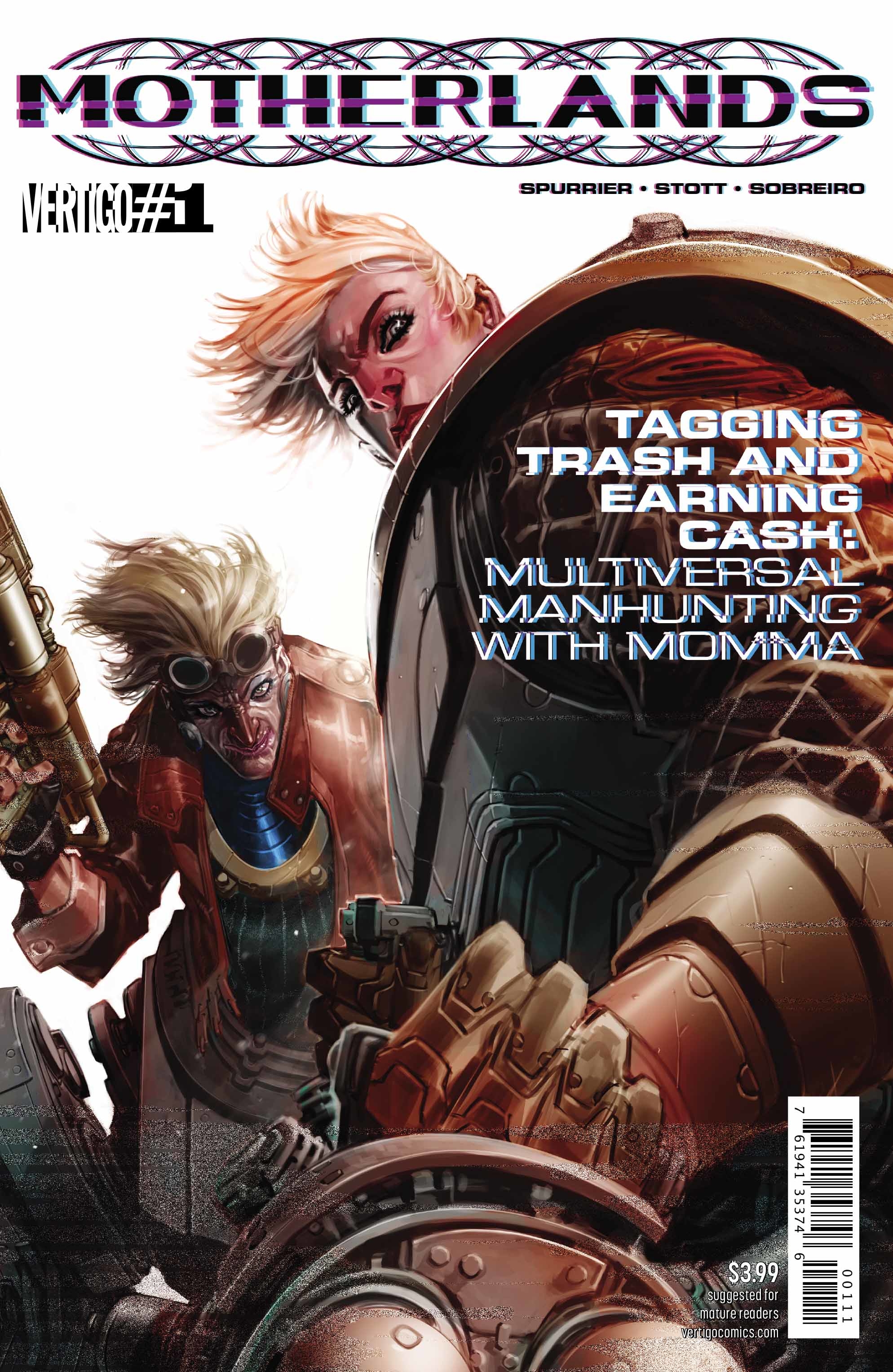 (W) Alisa Kwitney (A) Mike Norton (CA) Julian Totino Tedesco
SRP: $5.99
With classes in full swing, Zatanna starts to realize that celebrity will only get you so far at MYSTIK U! Could the mysterious ladies of Thriae hold the key to success inside and out of the classroom? Now Zatanna must choose between rushing the sorority with all the answers and her rebellious relationship with Faust. Will she find a way to balance the two or is this bad romance over before it even began? The bimonthly miniseries continues!
RATED T+
(W) Joshua Williamson (A) Christian Duce (CA) Howard Porter
SRP: $4.99
"FLASH WAR" prelude! The biggest Flash story of 2018 starts here, with a special story starring the classic Wally West, who's conflicted over whether to let Iris West know he is alive-and he'll need the help of the Flash to figure out what to do! But when Magenta, Wally's old love, needs his help, the Flash returns home to Keystone City where he is confronted with violent memories of an unknown world...A major turning point for the Flash family that sets the path for earth shattering stories in 2018!
RATED T
(W) Dan Abnett (A/CA) Sandra Hope, John Romita
SRP: $2.99
"CODE OF HONOR" part one! She's one of the DC Universe's deadliest assassins...and you've never heard of her. Super-strong, highly trained, armed with devastating and stealthy meta-human abilities, the Silencer is virtually invincible. Or at least she was. After decades as Leviathan's chief assassin, Honor Guest put in her time and managed to get out with her skin intact. Now she lives a normal life with a normal family in a normal house on a normal street. But the past has come back to haunt her in the form of her old employer and a deadly new mission...and Talia Al Ghul won't take no for an answer.
RATED T+