(W) Dan Jurgens, Max Landis, Mark Russell (A) Francis Manapul, Jill Thompson (A/CA) Will Conrad
SRP: $4.99
"The Last Will and Testament of Lex Luthor"! When Superman's world was reborn, his greatest enemy became his most unexpected ally. But does that truly reflect Lex Luthor-or was it all a sham? Now, as Lex Luthor's path toward righteousness reaches its apex, he finds himself involved in an adventure in which Superman stands to be destroyed. What choice will Luthor make? Will he save Superman or watch him die at the hands of a foe he could not possibly imagine? This oversized special also features stories from the acclaimed teams of Max Landis and Francis Manapul (in a story previously slated to appear in the DC UNIVERSE HOLIDAY SPECIAL 2017 #1) and Mark Russell and Jill Thompson!
(W) Tom King (A) Sandu Florea (A/CA) Tony S. Daniel
SRP: $2.99
"THE TRAVELERS" part two! Booster Gold's wedding present has screwed up Batman's past, and done even more damage to his present. Now, with the Caped Crusader himself refusing to cooperate, the only way for Booster to correct this runaway timeline is to get Catwoman on his side. But with her own past altered, can he make Catwoman recognize the qualities in her husband-to-be that brought them together in the first place? Plus, if Batman isn't doing his job, Gotham City may become way more dangerous than our bumbling time-traveler might be ready for.
(W) Marguerite Bennett (A) Siya Oum (CA) Paulina Ganucheau
SRP: $2.99
An armada from beyond the skies led by a mad queen descends to take revenge on a world divided!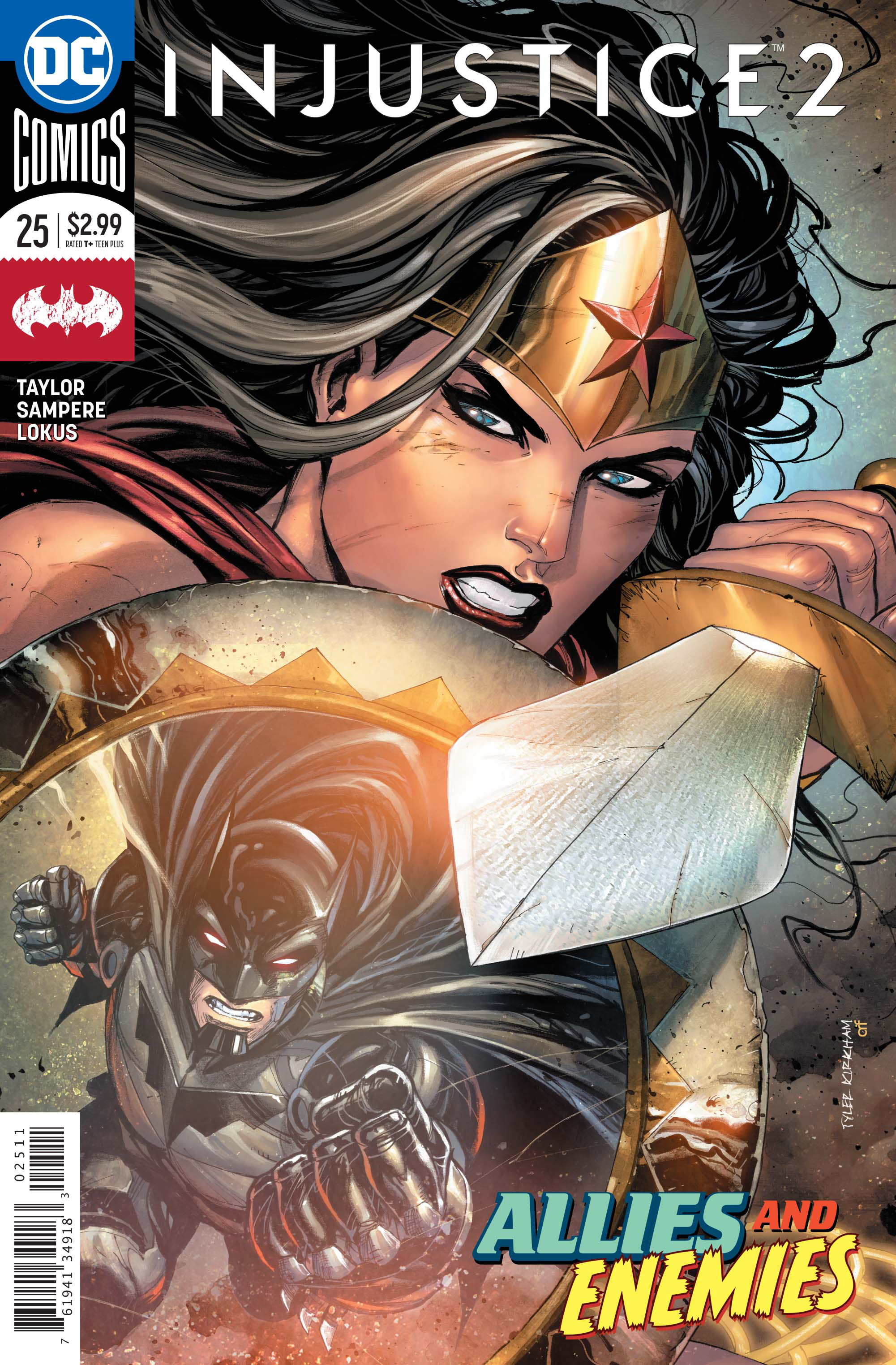 (W) Justin Jordan (A/CA) Philip Tan
SRP: $2.99
What do you do after you unknowingly make a deal with the devil that transforms you into Brimstone, and you can't stop the constant feeling of screaming, fiery pain burning from head to toe? Joe Chamberlain is determined to relieve himself of this curse by tracking the devil by his tail. That is, if the devil's Hound doesn't get to him first...
(W) Mary Wolfman (A/CA) Sam Lotfi
SRP: $3.99
"My name is Nijiro Jin, born of flesh and blood, but now encased in steel. I have become N-Jin, who seeks to discard the final traces of frail humanity to become Mekkan-X, the Man-God who will soon wield the power infinite."
"All that stands in my way is the construct they call Cyborg. It is for that reason alone that he must regretfully die."
Introducing Mekkan-X, born in the waning days of the 19th century, who has targeted for destruction not only the Robo Dojo school of giant robot makers, but Vic Stone as well.
(W) Christopher Priest (A) Carlo Pagulayan (CA) Robson Rocha, Daniel Henriques
SRP: $3.99
"DEATHSTROKE VS. BATMAN" part two! The war between Deathstroke and Batman escalates when the Dark Knight foils one of Deathstroke's assassination attempts! Meanwhile, a mysterious package brings Commissioner Gordon to Bruce Wayne's doorstep, and Adeline Kane - Slade Wilson's ex - sets her sights on Batman!
(W) Tom King, Scott Snyder, James TynionIV, Joshua Williamson, Brian Michael Bendis (A) Clay Mann, Jos? Luis Garcia-Lopez (A/CA) Jorge Jimenez
SRP: $0.25
These stories will appear only in this comic book and will not be reprinted in another comic book before each series' collected editions. Only the first printing of this issue will have a cover price of $0.25. This issue will ship with four covers. Please see the order form for details.
Just in time for Free Comic Book Day, this special comic priced at just $0.25 US features three brand-new stories from a lineup of superstar talent-and each tale serves as a prelude to some of the biggest DC events of 2018!
First, find out how The Joker reacts when he discovers Catwoman has turned her back on crime and plans to marry his archnemesis. Can the Clown Prince of Crime stand to see Batman happy? Writer Tom King and artist Clay Mann set up the events that lead to BATMAN #50!
Then, DARK NIGHTS: METAL shook the DC Universe to its deepest foundations-now it's time to rejoin legendary writer Scott Snyder, along with all-star artist Jorge Jimenez and co-writers James Tynion IV and Joshua Williamson, for the prelude to JUSTICE LEAGUE: NO JUSTICE! Discover what universe-shattering mysteries have emerged from the most wondrous and chaotic corners of the cosmos to hunt the Justice League in DC's summer blockbuster event!
And get your first glimpse at Superman's new world in this exclusive preview of the upcoming six-issue miniseries MAN OF STEEL, written by Brian Michael Bendis with art by José Luis García-López. With Truth, Justice and the American Way all under attack, both Superman and Clark Kent find there's never been a more important time to stand up for what they believe in.
EXIT STAGE LEFT: THE SNAGGLEPUSS CHRONICLES #5
(W) Mark Russell (A) Mike Feehan, Sean Parsons (CA) Ben Caldwell
SRP: $3.99
Snagglepuss is faced with the ultimate dilemma: save his friend or follow his conscience, as his final showdown with the House Committee on Un-American ActivitIes looms.
(W) Collin Kelly, Jackson Lanzing (A) Marcio Takara (CA) Tyler Kirkham
SRP: $3.99
"THE CHILDREN OF VAHKAR" finale! Nothing and his army have left Green Arrow for dead in the desert. In order to get himself back to full strength and take out the army, Green Arrow will have to team up with a band of rebel heroes in Vahkar - but will they trust him? Or will he only find himself with more enemies to fight?
(W) Tim Seeley (A) V Kenneth Marion, Sandu Florea (CA) Brett Booth, Norm Rapmund
SRP: $2.99
"GHOSTS OF THE PAST" part three! In his effort to free Jessica Cruz from her own power ring, Simon Baz wades through a horde of monsters! But is Simon strong enough to face down the monster inside himself before Jess falls so deep into the abyss that she can't return?
(W) Paul Dini (A) Bret Blevins (CA) Amanda Conner
SRP: $3.99
Paul Dini returns to the character he co-created to deliver the incredible two-issue wrap-up of the "Harley Loves Joker" flashback tale that ran as a backup in HARLEY QUINN last year! As far as The Joker's concerned, the new headquarters Harley built for them is absolutely perfect...but only she knows the whole place is rigged to come crashing down around them-and she doesn't know how to stop it!
(W) Tom Taylor (A) Daniel Sampere (CA) Tyler Kirkham
SRP: $2.99
Supergirl and Blue Beetle share a secret on the moon. And in Gorilla City, King Solovar questions his alliance with Ra's al Ghul, while Ra's' own forces begin to fracture and his daughter is about to go rogue. Meanwhile, Batman and Wonder Woman have a showdown.
(W) Ben Percy (A) Chris Mooneyham (CA) Declan Shalvey
SRP: $3.99
"THE BLEEDING EDGE" part one! Change is on the horizon when a new technologist sets his sights on Blüdhaven, creating a holographic, interconnected city where everyone is an individual and also part of a larger network. It's the Internet made physical! Gentrification on gigabyte-laced steroids. But when this new utopia encroaches on his turf, Nightwing starts to uncover a sinister plot based not on revenge...but on a reckoning. "The Bleeding Edge" begins here, setting Dick Grayson on a path to clarify the ideals at his very core: his sense of home and identity.
SHADE THE CHANGING WOMAN #3 (OF 6)
(W) Cecil Castellucci (A) Marley Zarcone, Jamie Coe (CA) Becky Cloonan
SRP: $3.99
In an attempt to move on with her new life, Shade decides she must separate her head from her heart - literally. Meanwhile, River gets caught up in an anti-alien league, while a familiar force visits vengeance upon Valley Ville's residents.