(W) Tom King (A) David Finch, Jo?lle Jones, Mitch Gerads, Rafael Albuquerque, Neal Adams, Andy Kubert, Becky Cloonan, Ty Templeton, Jos? Luis Garc?a-L?pez, Frank Miller, Lee Bermejo (A/CA) Mikel Janin
SRP: $4.99
It's the wedding you never thought you'd see! The Batrimony is real as Bruce Wayne and Selina Kyle are set to tie the knot in a can't-miss, extra-length milestone issue that will reshape Gotham City. All their friends (and a few enemies?) will be party to a comic book coupling for the ages. Superstar scribe Tom King officiates the sure-to-be-offbeat nuptials, joined by an all-star lineup of guest classic Bat-artists doffing their hats to the lucky couple in a series of pre-wedding flashback scenes sure to set the romantic mood.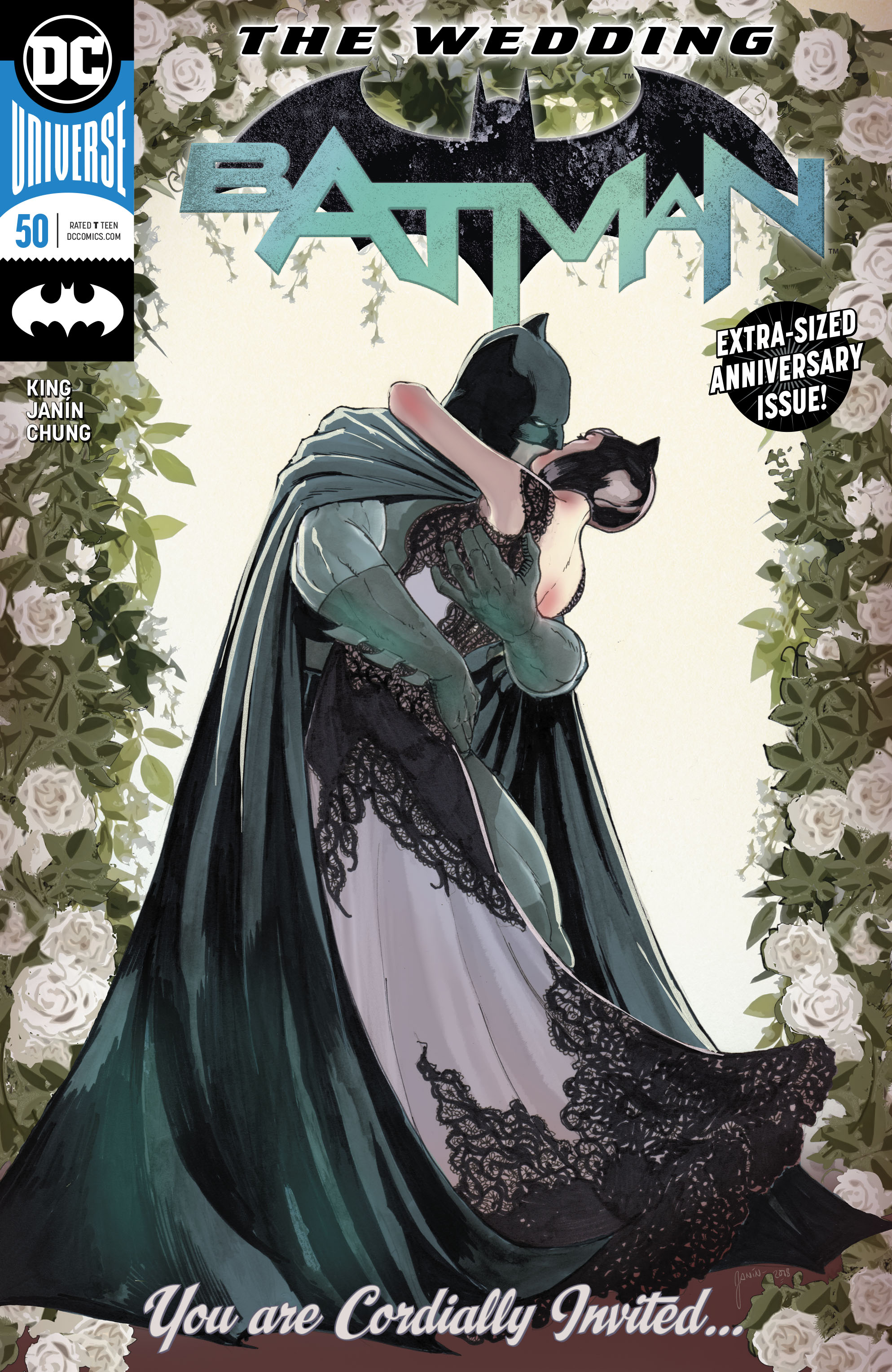 (W) Joelle Jones (A/CA) Joelle Jones
SRP: $3.99
The wedding night's barely over, but Catwoman's back on the streets, this time to expose a copycat who's pulling heists around Gotham City. As Selina cracks the whip on her former criminal cohorts, she's attracting unwanted attention from one of Gotham's most dangerous groups. The mob? Nope. Try the GCPD. And as if the Bat-Bride didn't have enough problems, don't miss the debut of an all-new villain determined to make trouble for all nine of Selina's lives. Don't miss the start of an all-new monthly series written and illustrated by Eisner Award-nominee Joëlle Jones!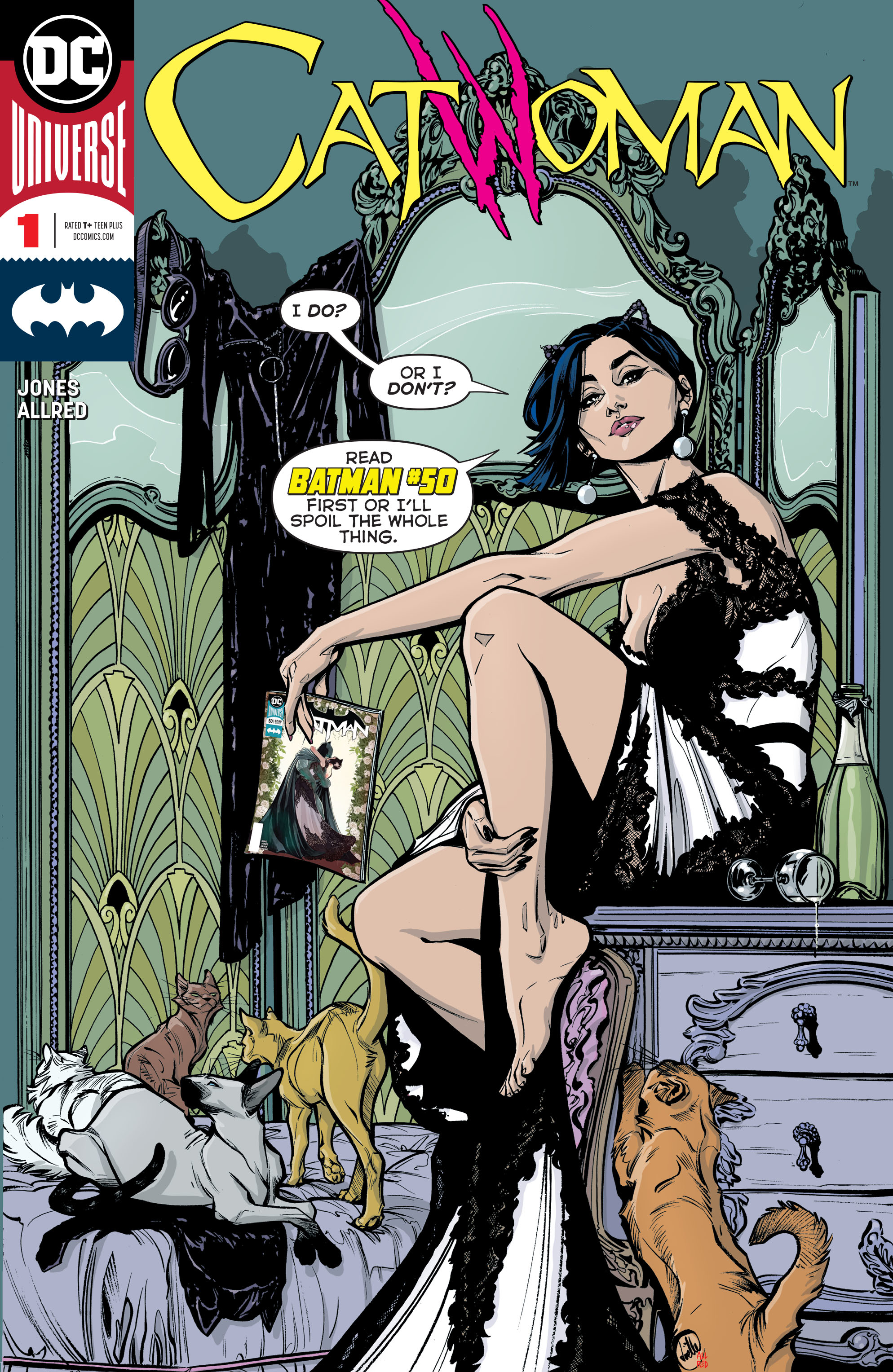 THE CURSE OF BRIMSTONE #4
(W) Justin Jordan (A/CA) Philip Tan
SRP: $2.99
It's time to let off some steam with a classic "water vs. fire" showdown! The fiery Brimstone clashes with Detritus, a 10-foot-tall humanoid wall of Dark Water created by the same mysterious "Salesman" who gave Brimstone his powers! More secrets of the Brimstone curse are revealed as the Salesman's sinister campaign begins to be uncovered!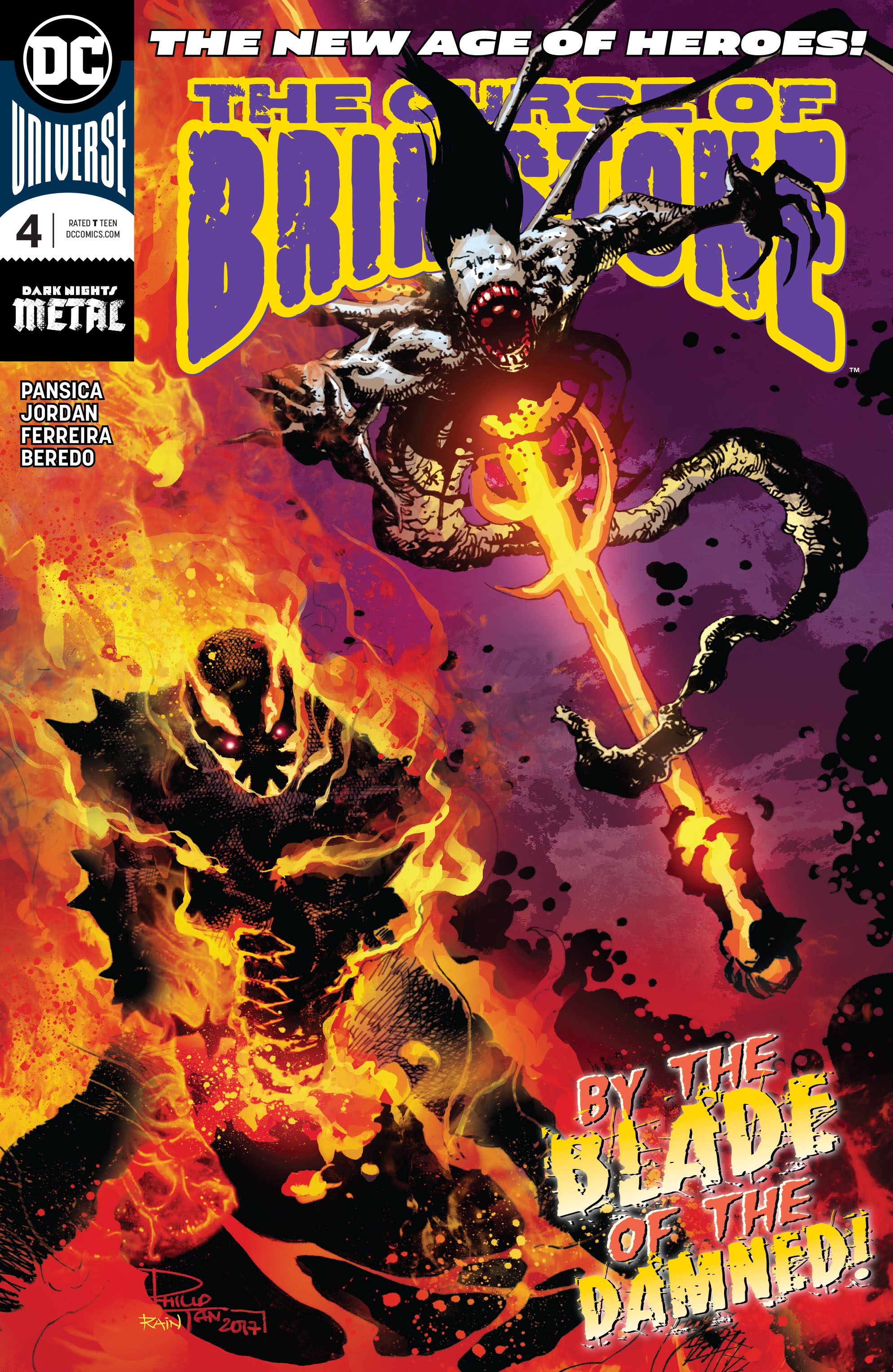 (W) Christopher Priest (A) Carlo Pagulayan, Jason Paz (CA) Robson Rocha, Daniel Henriques
SRP: $3.99
Forced to team with Deathstroke, a man he loathes, Damian Wayne must discover the truth of his lineage. Is he really Bruce Wayne's son, or is Slade Wilson his true father? As Batman draws closer to finding them both, Deathstroke must complete a hit, while Robin shadows the killer for hire.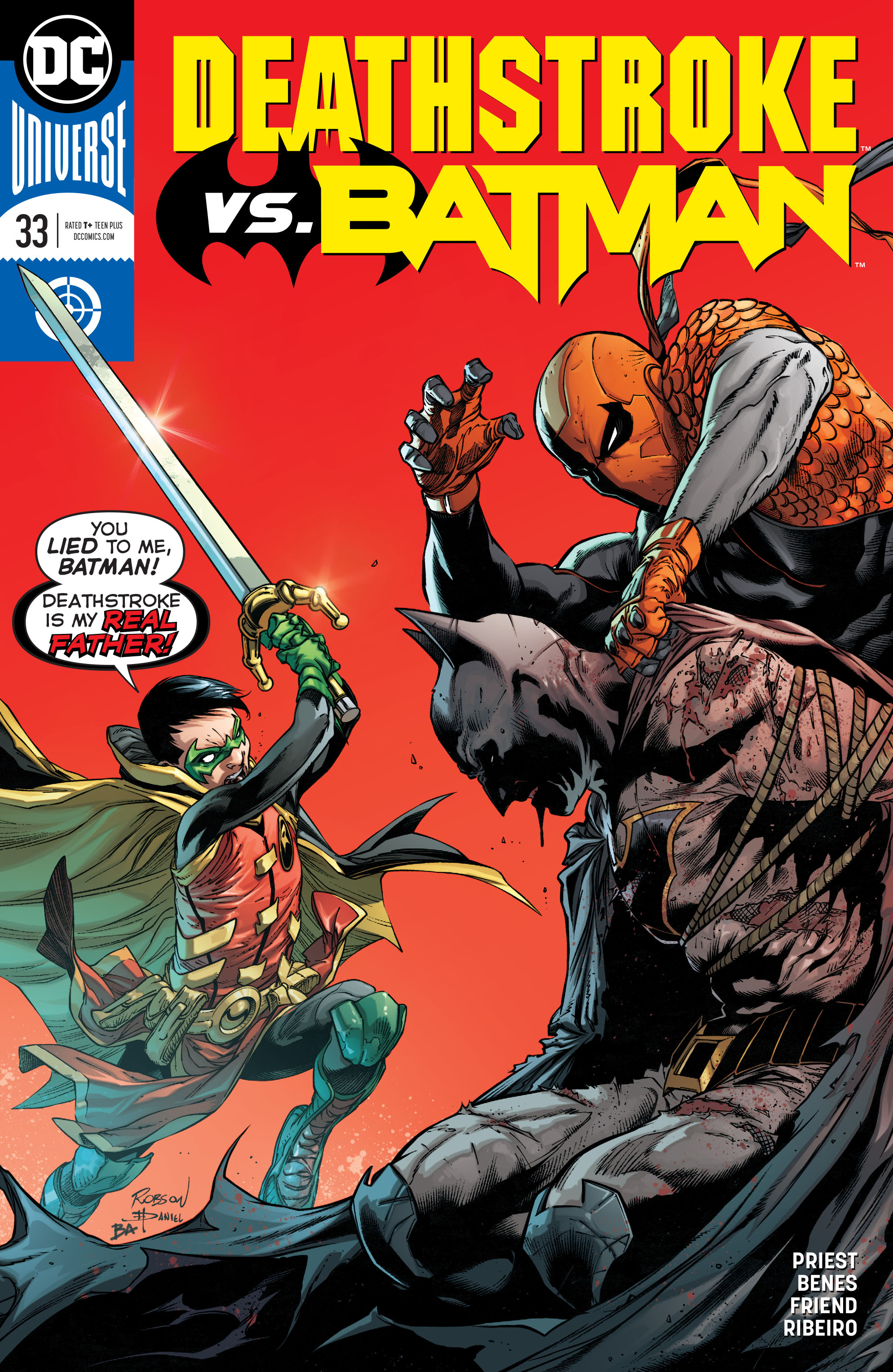 (W) Mairghread Scott (A) Matthew Clark (CA) Tyler Kirkham
SRP: $3.99
It's Parasite Season for Green Arrow. The Emerald Archer must hunt down the power-sapping purple powerhouse-alone, in a maximum-security prison, running low on arrows-and after the tapeworm terror has feasted on a buffet full of metahuman criminals. Prison reform, Ollie? You shoot arrows in people; that's straight up medieval!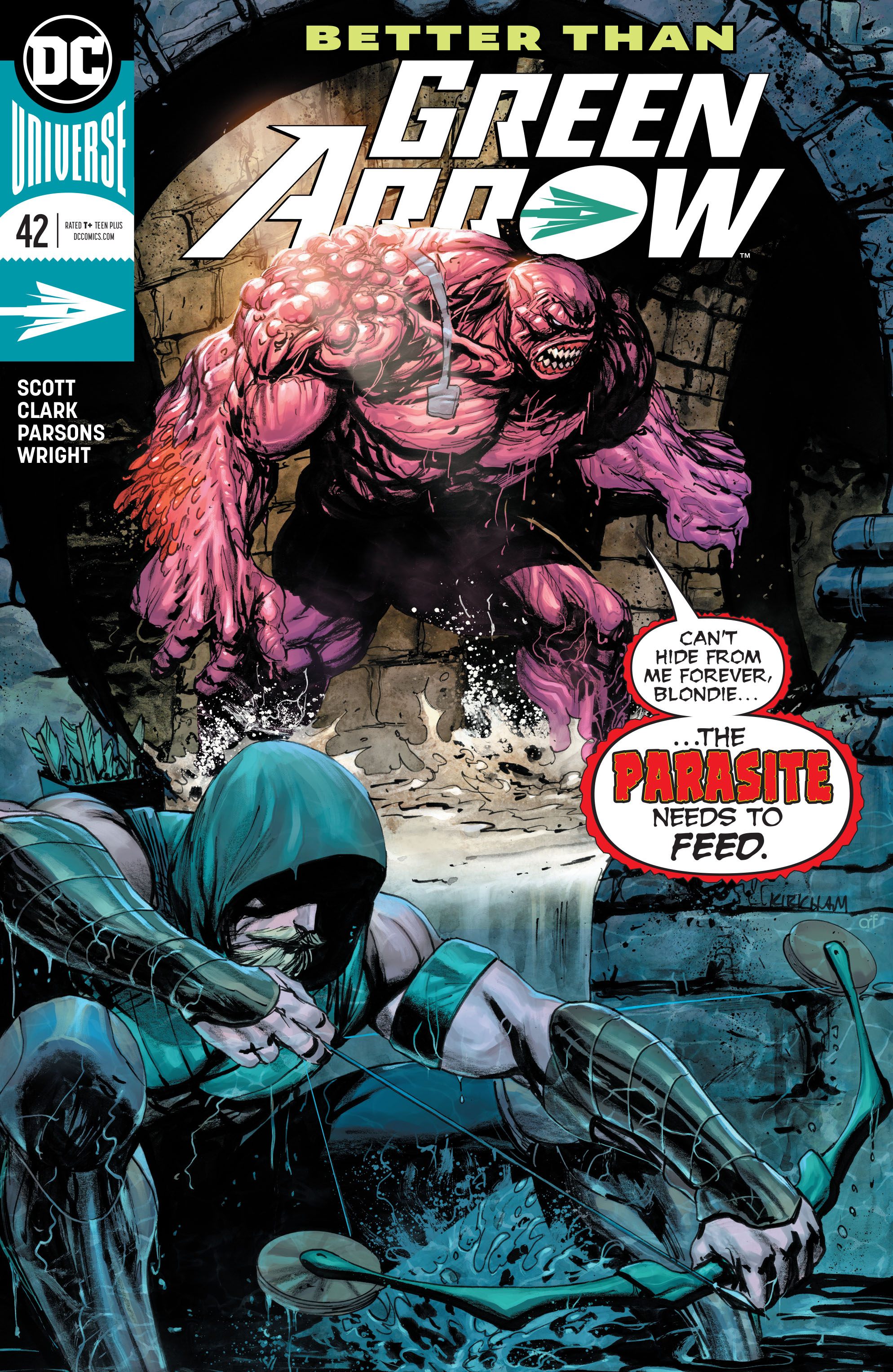 (W) Dan Jurgens (A/CA) Mike Perkins
SRP: $3.99
"Something is amiss." That's what the Guardians believe. But even they cannot see the darkness growing inside the Central Power Battery...an infection. One that will have enormous repercussions within the entire Green Lantern Corps. Making matters worse, in light of recent events, Jessica Cruz questions her place within the Green Lantern Corps, contemplating leaving it behind. And her partner Simon Baz is stung so much by her confession, he may let her go...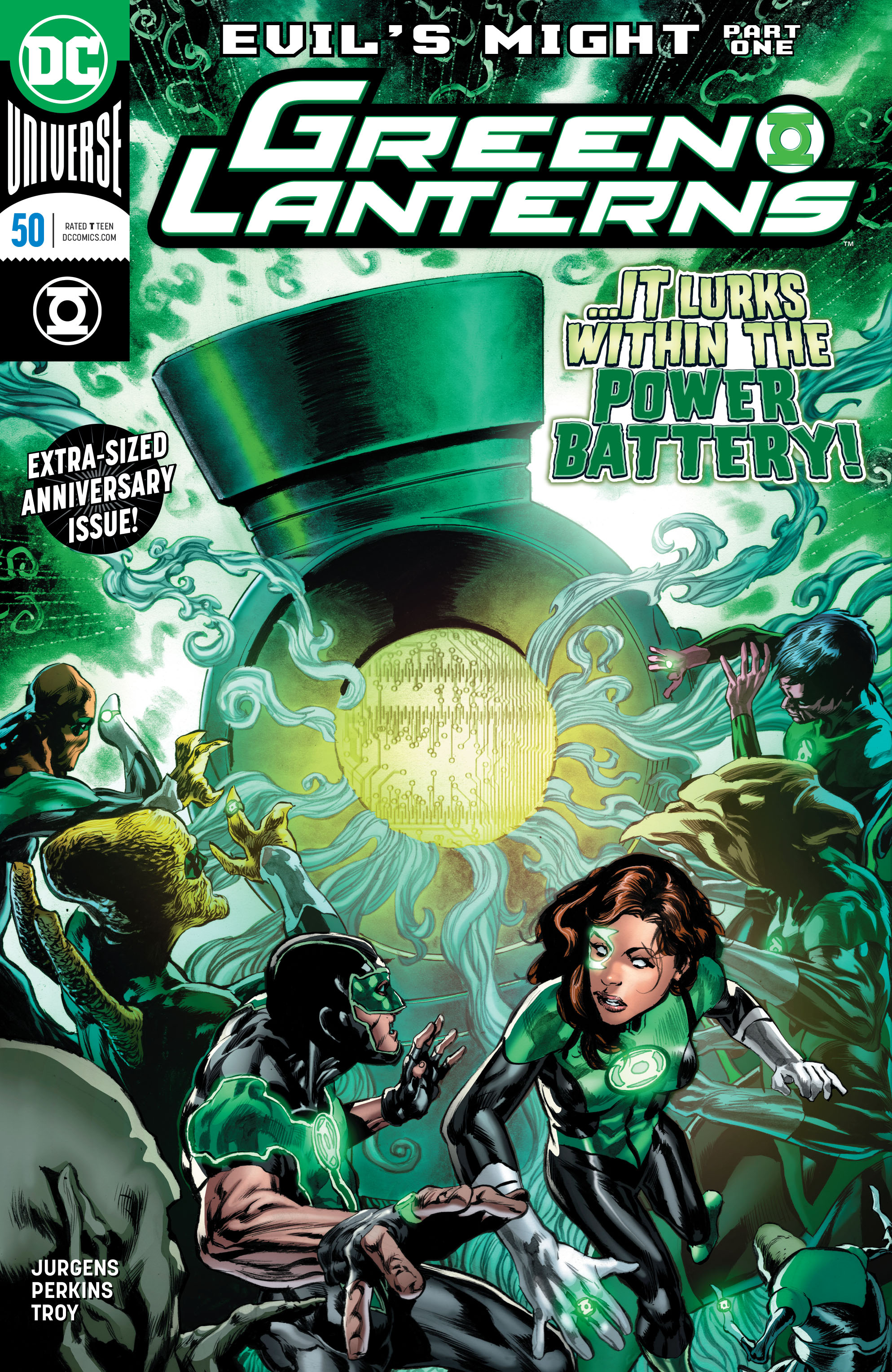 (W) Sam Humphries (A) John Timms (CA) Guillem March
SRP: $2.99
While on a tropical vacation, Harley Quinn is kidnapped by two Female Furies from Apokolips-and they're making her an offer she can't refuse: join the Furies, get super powers and do anything she wants! It's a sweet deal, and all Harley has to do in return is hunt down rogue Fury Petite Tina. The bad news: Petite Tina is anything but petite! Hope that hammer got an upgrade, Harley.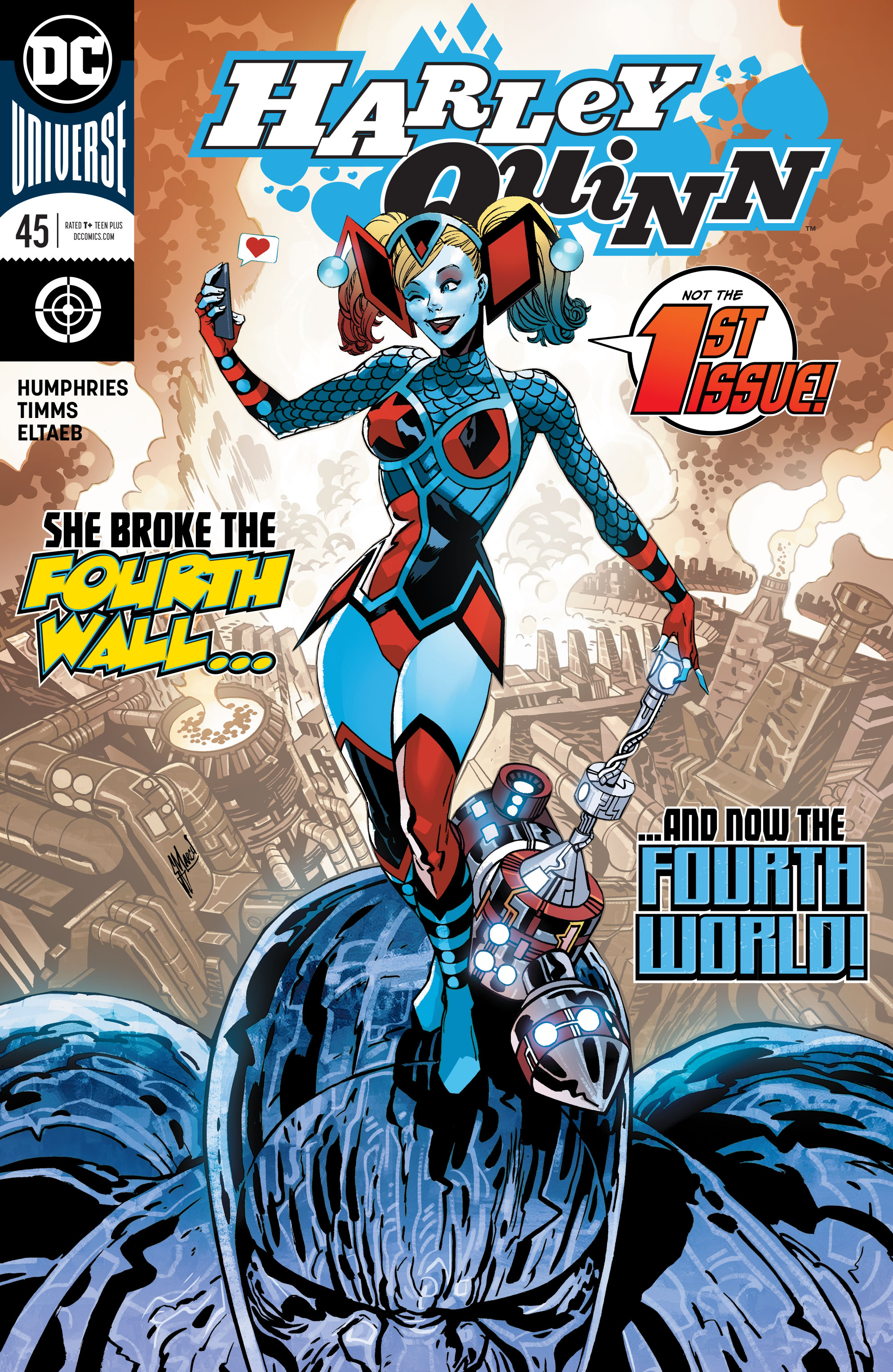 (W) Tom Taylor (A/CA) Bruno Redondo
SRP: $2.99
Seems like everyone wants a piece of Blue Beetle. First he gets some surprise visitors to his home, then later he finds himself the target of a certain well-known intergalactic bounty hunter. But who ultimately wants Jaime Reyes in their clutches and why?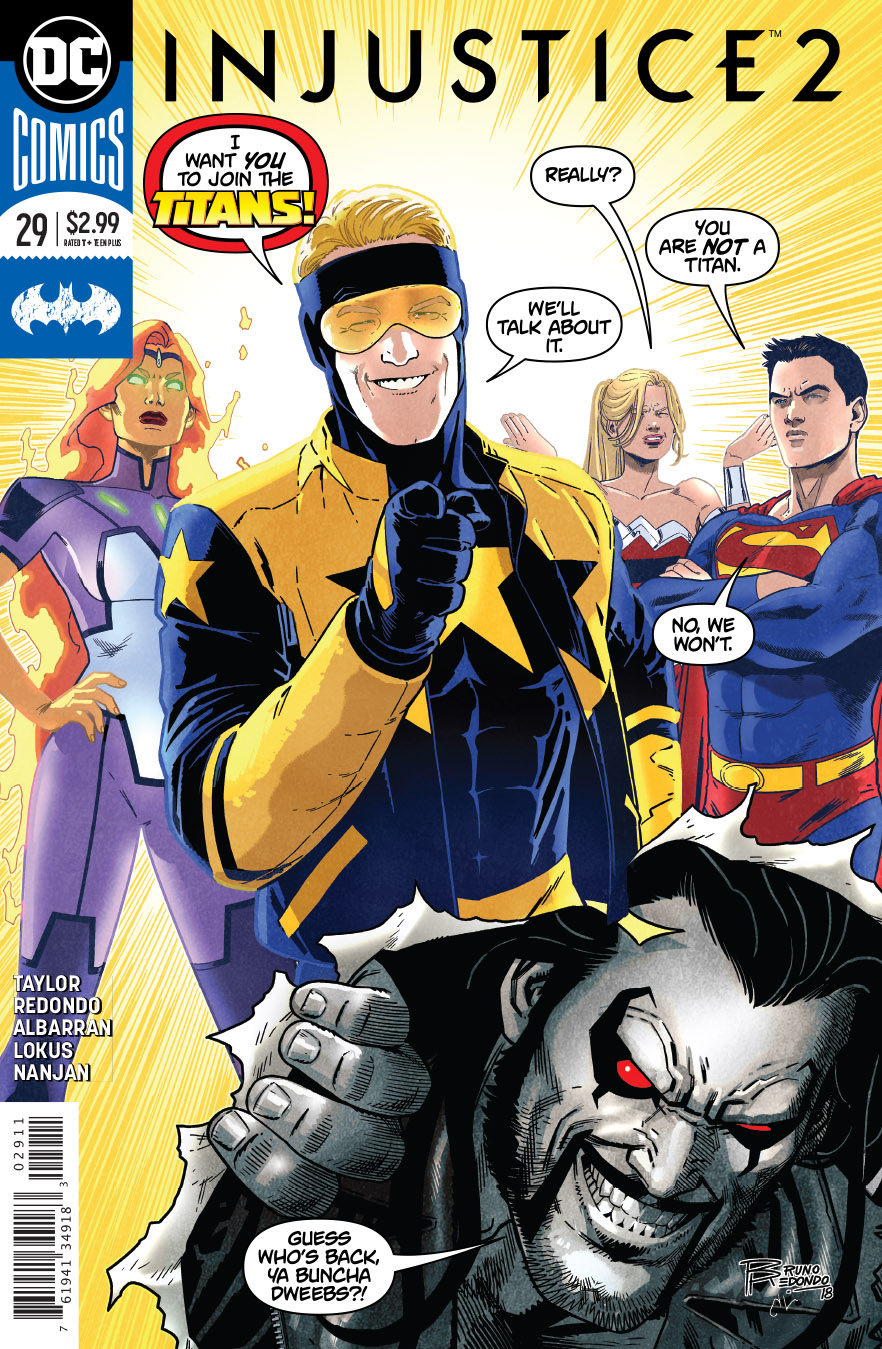 (W) Scott Snyder (A/CA) Jorge Jimenez
SRP: $3.99
John Stewart: Ultraviolet Lantern? Believe it! Under the influence of the Ultraviolet Spectrum, John Stewart engages in some ultraviolence against his teammates Flash, Wonder Woman and Aquaman. Meanwhile, the rest of the League investigates the scene of the fallen Source Wall fragment, and encounters not only a horde of giant monsters, but a pair of longtime archenemies using stolen Atom technology to literally get under their skin. Best to stock up on Cortizone for that sort of itch! All this and...the Turtle? Yep.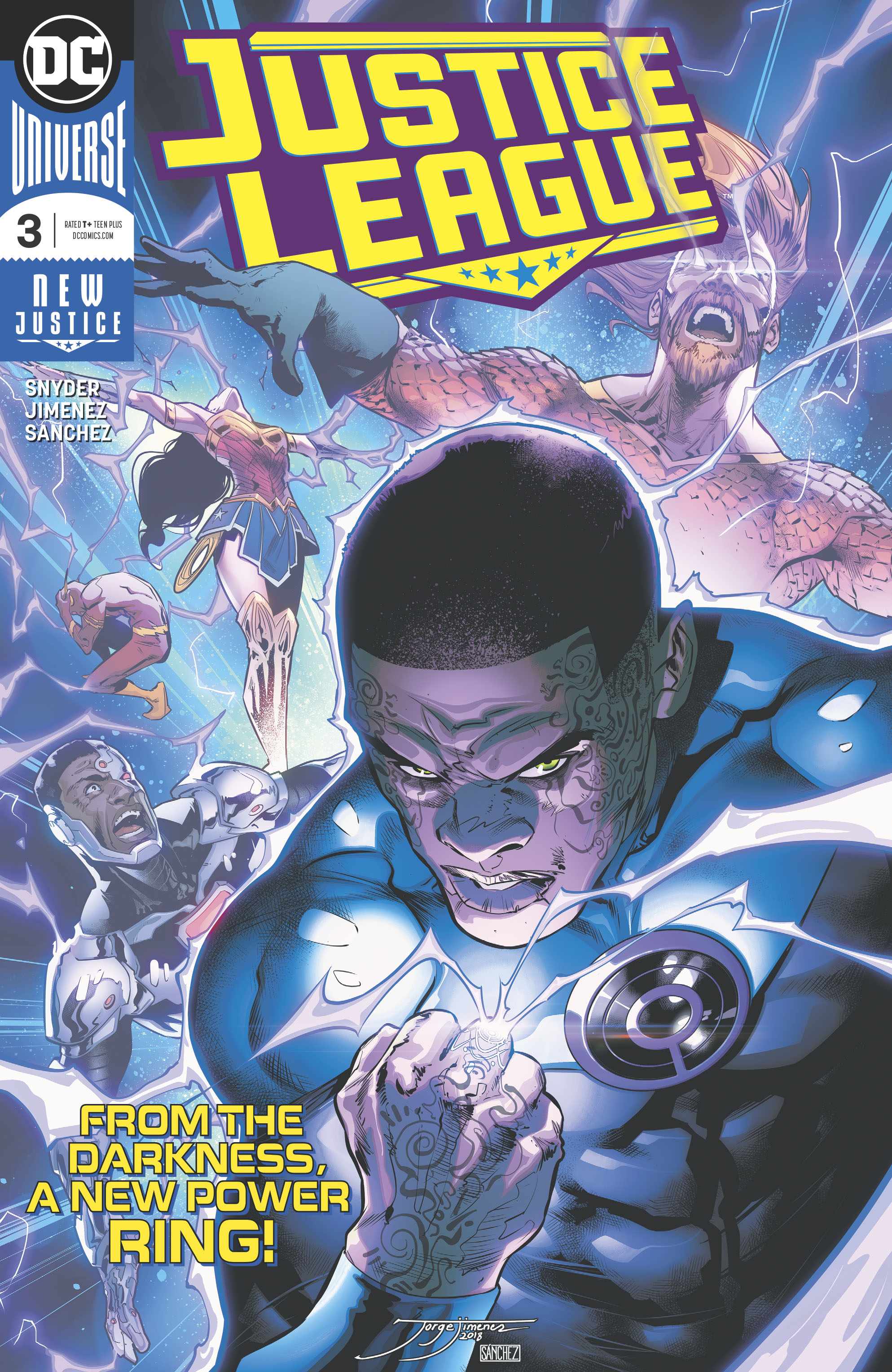 (W) Brian Michael Bendis (A) Jason Fabok (CA) Ivan Reis, Joe Prado
SRP: $3.99
The fate of Lois Lane and Jon Kent is revealed! Metropolis' survival hangs in the balance! And Superman must somehow put an end to Rogol Zaar's rampage! It's do-or-die time for the Man of Steel in the final chapter of this explosive miniseries!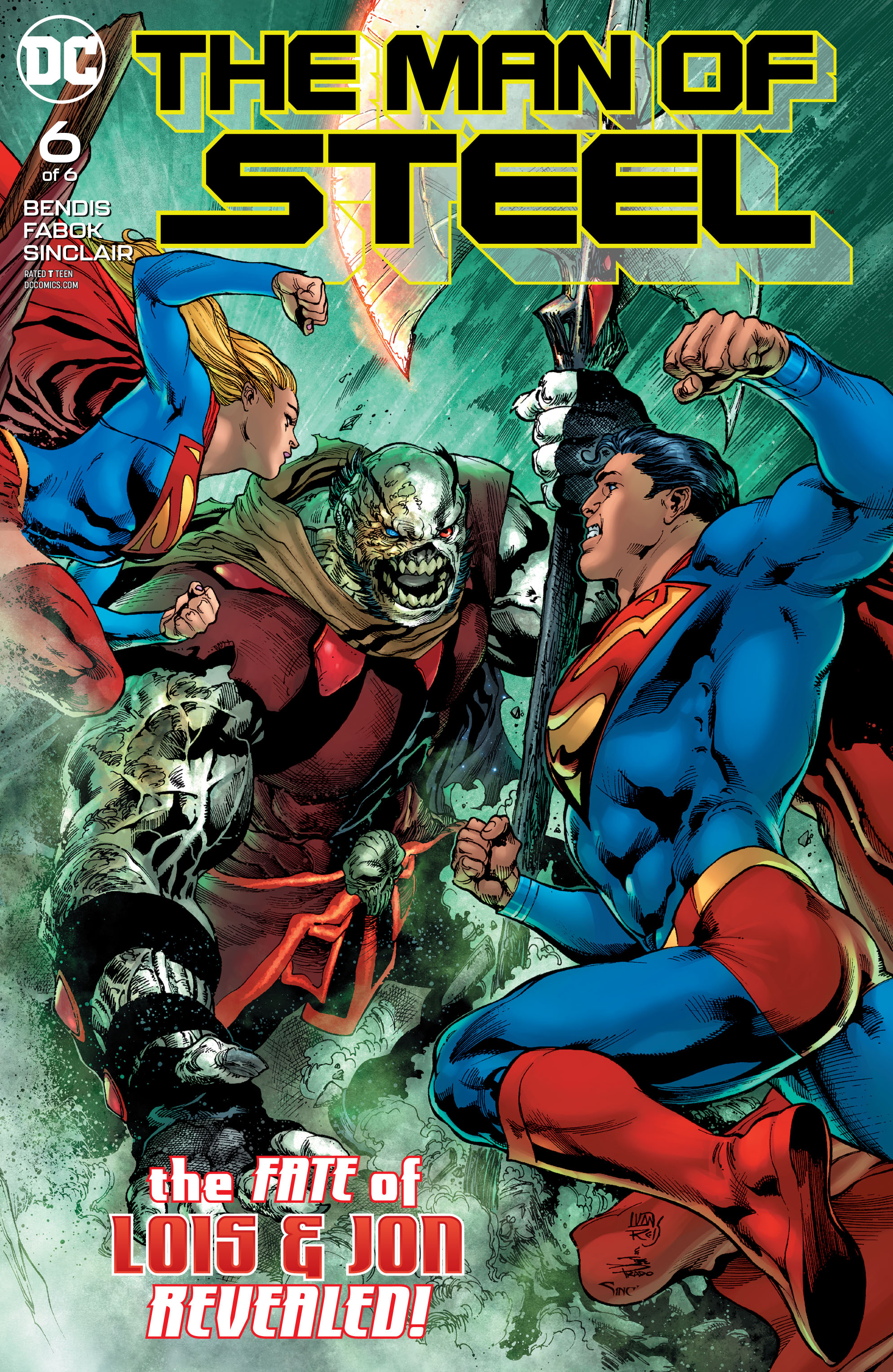 (W) Ben Percy (A) Chris Mooneyham (CA) Mike Perkins
SRP: $3.99
A new high-tech corporation setting up shop in Blüdhaven claims to be the cure for what ails the crumbling city. But Night-wing learns it's a very hostile takeover when he runs afoul of their metahuman operative, a digital phantom impervious to physical attack. Luckily, Nightwing has his very own I.T. backup: Batgirl! But can the two work together after their meeting in BATGIRL #25, also in stores this month?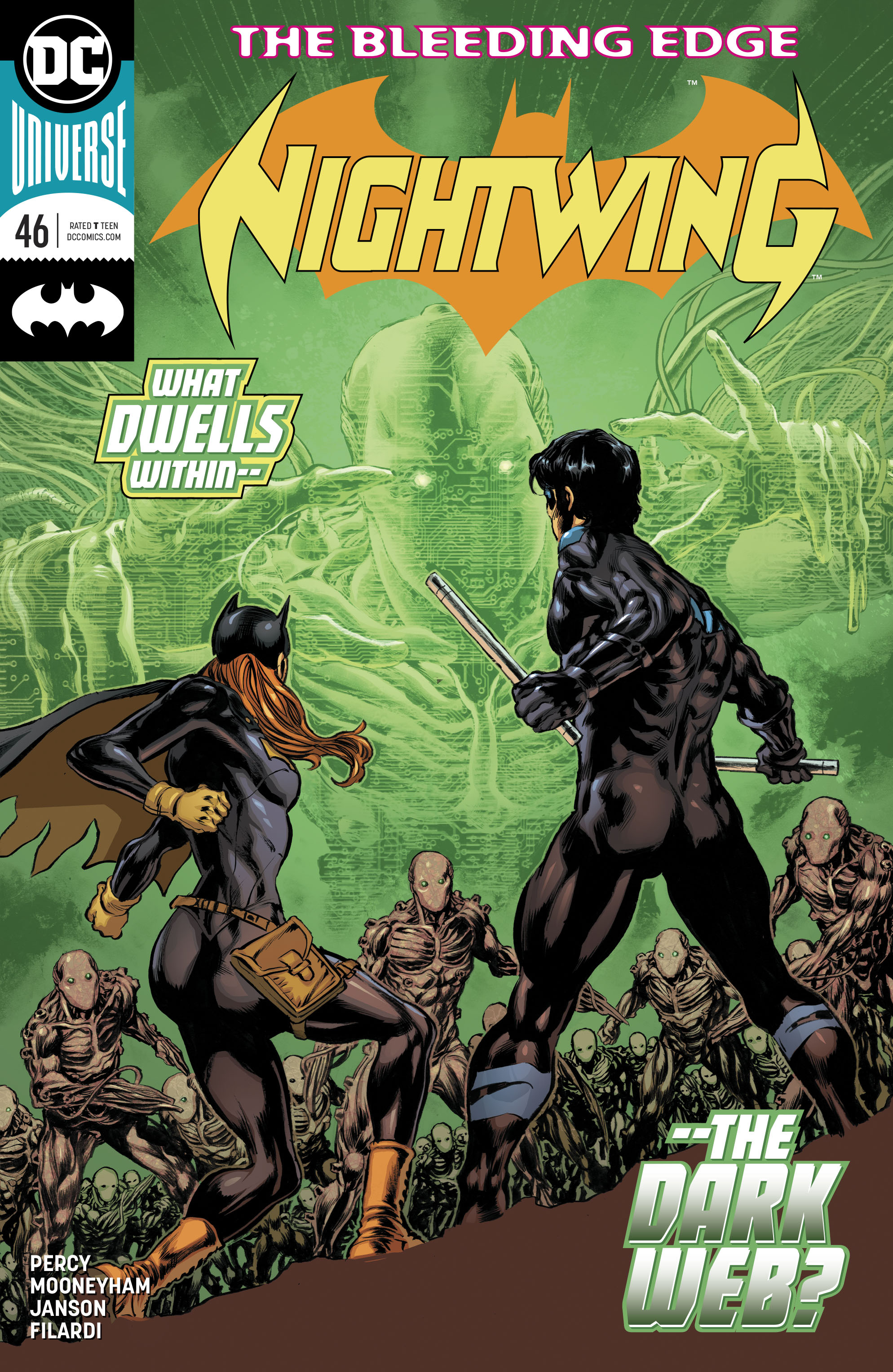 SHADE THE CHANGING WOMAN #5 (OF 6)
(W) Cecil Castellucci (A) Marley Zarcone, Jamie Coe (CA) Becky Cloonan
SRP: $3.99
The Madness is rising all around the Earth and reaching into space, but without feelings to process everything that's going on, Shade's anhedonia could turn deadly for not only herself but the rest of the world. But how can she care when she doesn't have any emotions?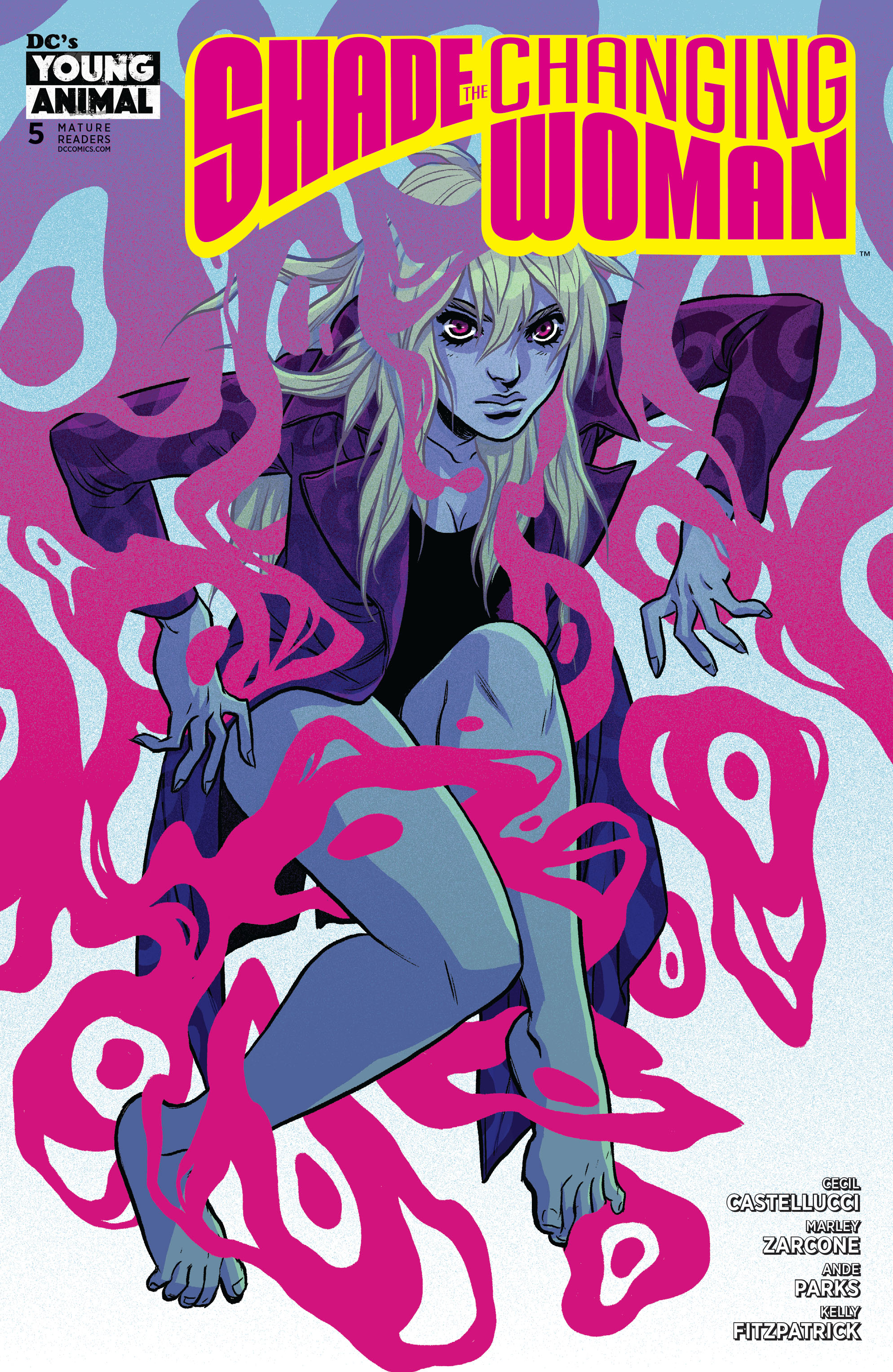 (W) Steve Orlando (A) Cary Nord (CA) Ryan Sook
SRP: $2.99
Ruthless Thanagarian dictator Onimarr Synn arrives on Earth with his army to pick the planet apart in search of the vibro-active Nth Metal. The Unexpected will have to collect themselves after the cataclysmic events of the first issue, discover their true connection to the Dark Multiverse and travel across the DC Universe to stop Synn's rampage.