ANT-MAN AND THE WASP #4 (OF 5)
(W) Mark Waid (A) Javi Garron (CA) David Nakayama
SRP: $3.99
• Every time Ant-Man and Wasp shrink in the Microverse, they enter a reality with new physics, new beings and new danger!
• How much smaller can they get before there's no way back?
• Marvel's weirdest science trip takes things up, er, down a notch!
Rated T+
(W) Matthew Rosenberg (A/CA) Greg Land
SRP: $3.99
• Welcome back to the X-Men stage, the incomparable...the amazing...the uncanny...DAZZLER!
• The Reavers are hunting random mutants, so Havok and Beast must save a former X-Man.
• But these Reavers aren't completely as they seem!
Rated T+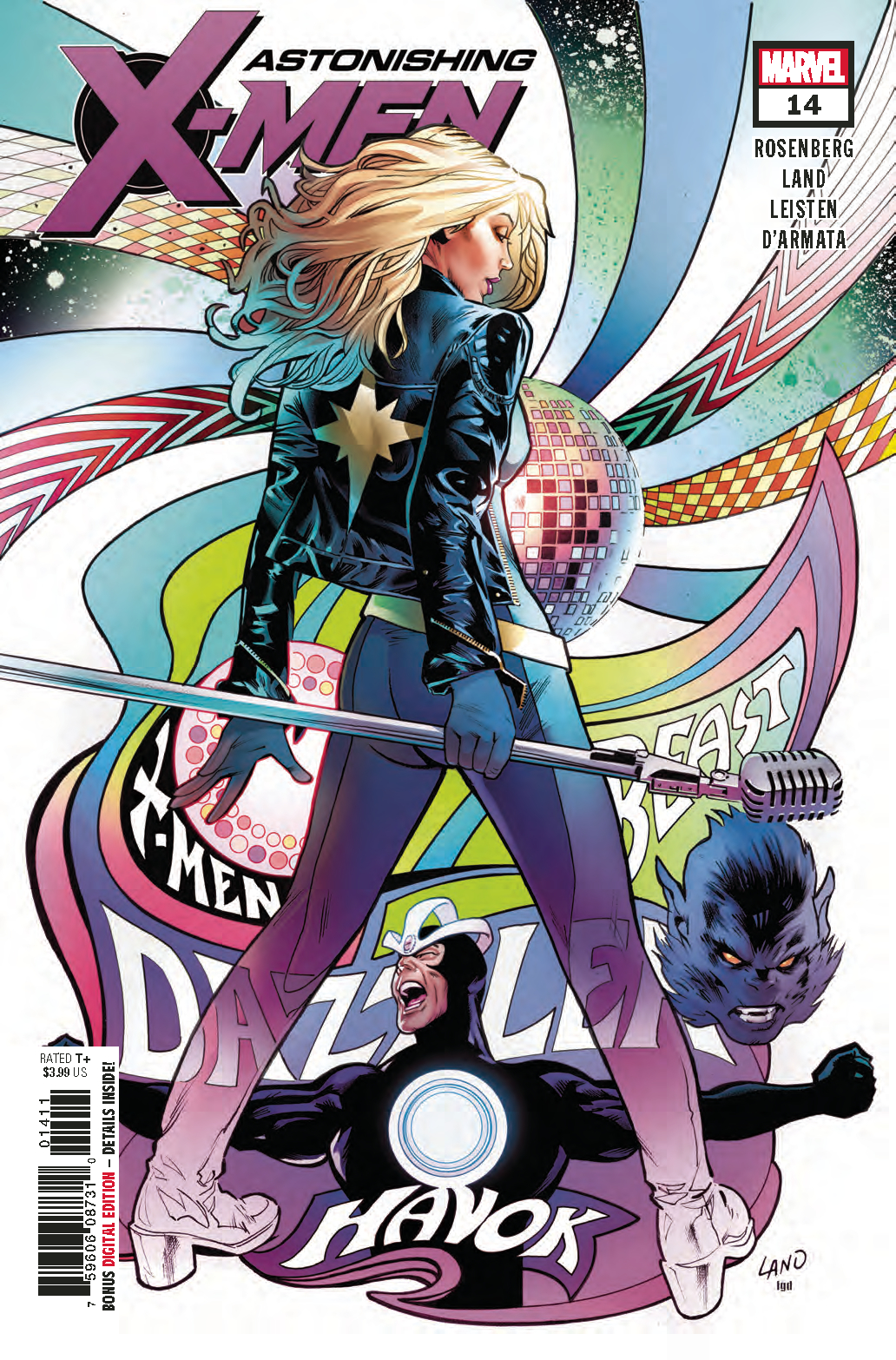 BEN REILLY: THE SCARLET SPIDER #22
(W) Peter David (A) Will Sliney (CA) Khary Randolph
SRP: $3.99
• It's Ben and Kaine vs. a pack of ravenous hellhounds as madness descends on Las Vegas!
• But can Kaine and Ben keep themselves from each other's throats long enough to save the city?!
Rated T+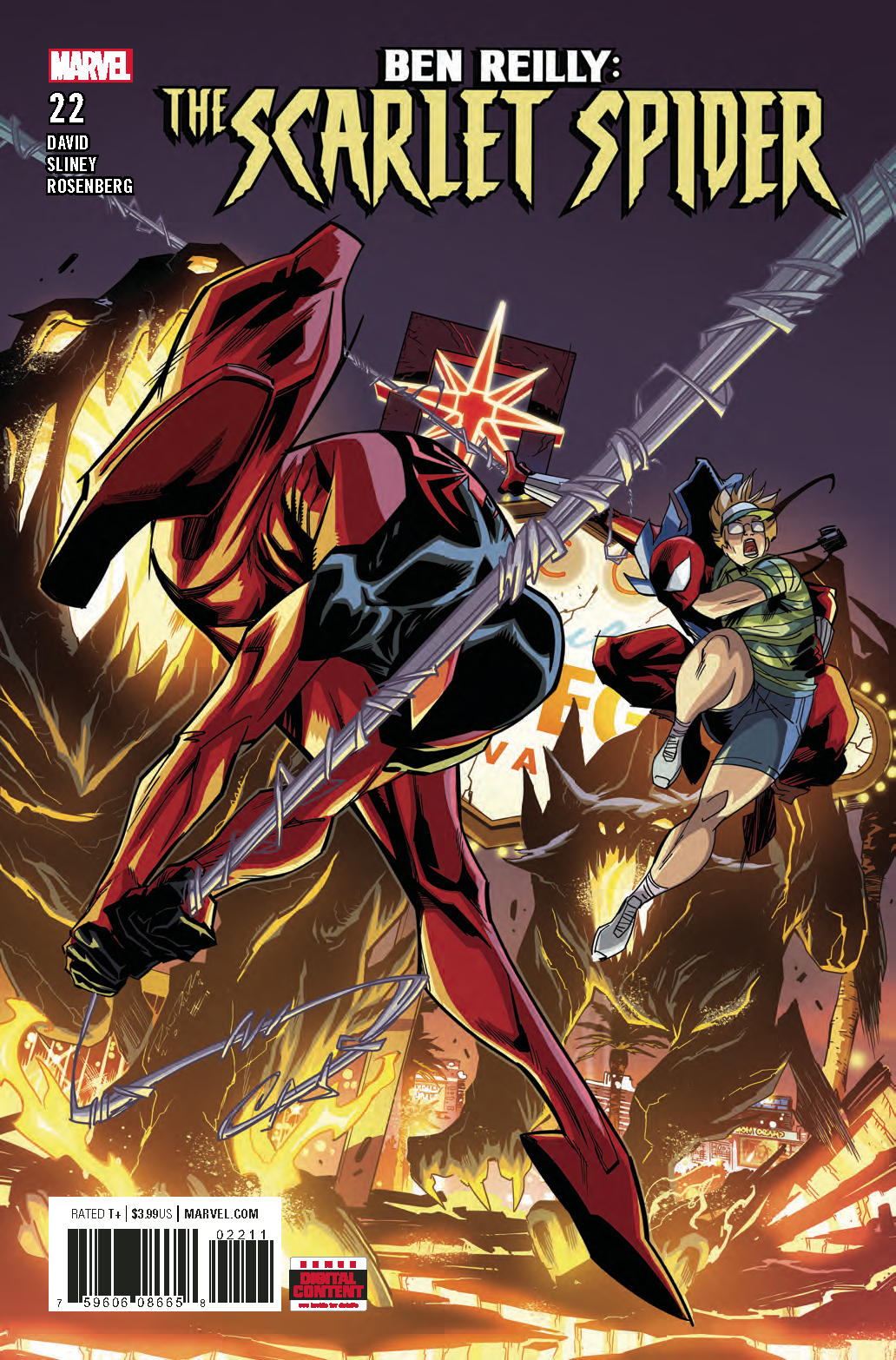 (W) Ta-Nehisi Coates (A) Leinil Francis Yu (CA) Alex Ross
SRP: $3.99
WINTER IN AMERICA Continues!
• Distrusted by a nation that seems to have lost faith in him, Steve Rogers is a man out of time and out of options!
• Where can a now-unsanctioned Captain America turn for aid and assistance in order to stem the rise of the cabal
of influence brokers known as the Power Elite?
Rated T+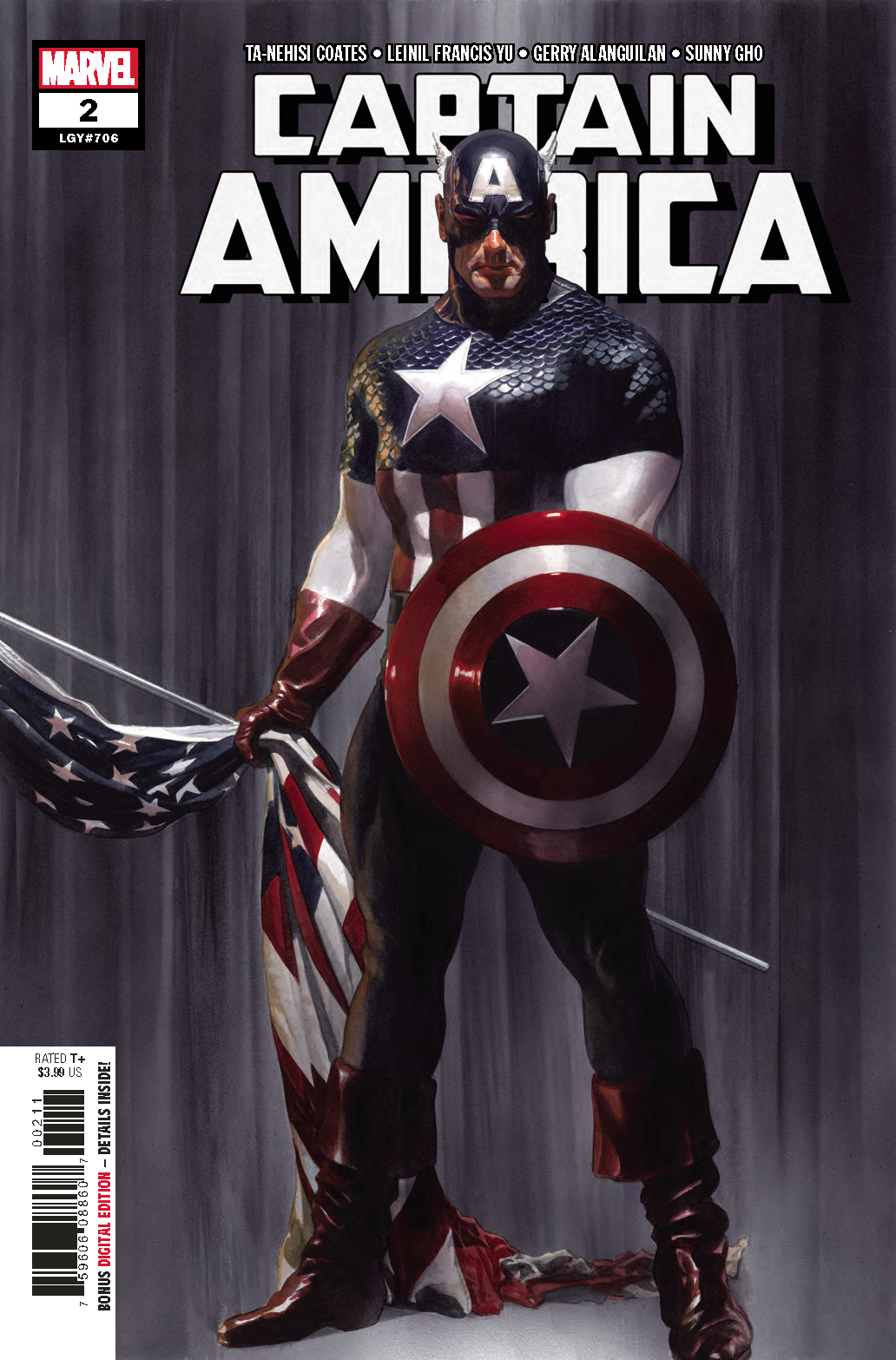 COSMIC GHOST RIDER #2 (OF 5)
(W) Donny Cates (A) Dylan Burnett (CA) Geoff Shaw
SRP: $3.99
The Rider is out to change the universe for the better, starting with an idea so simple he cannot believe no one has ever done it before! But as with all things worth doing, it's not going to be easy. For one thing: SPACE SHARKS. For another? Let's just say it's never good to run into Galactus during a bar fight.
Rated T+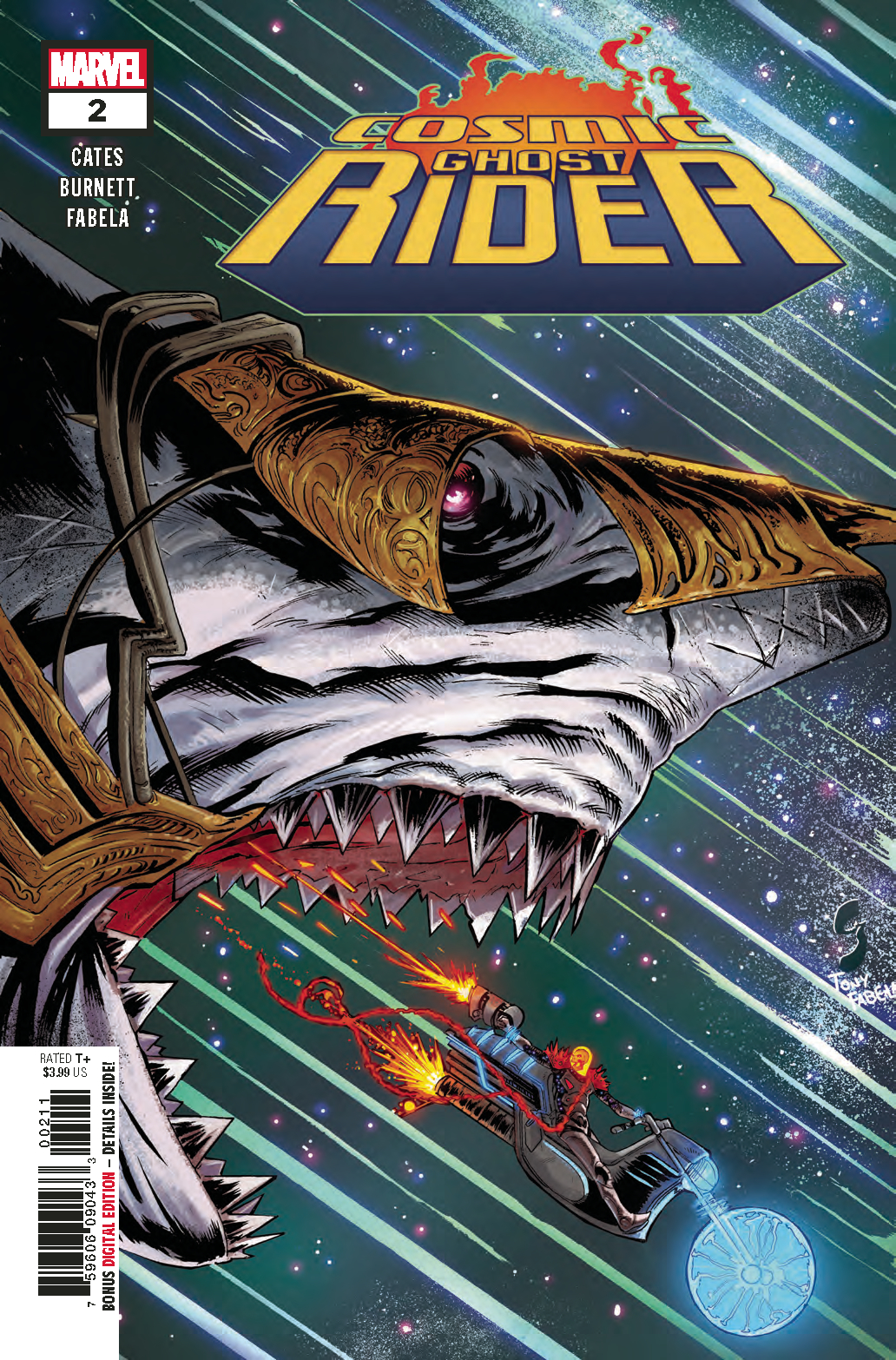 (W) Skottie Young (A/CA) Nic Klein
SRP: $3.99
THE BATTLE FOR PLANET EARTH!
• That escalated quickly.
• Deadpool's got a plan, and those usually work out flawlessly, so everyone, don't worry! Earth is TOTALLY GOING TO BE FINE.
• But, uh, just in case, anyone have an extra spaceship or a teleporter or some interstellar conveyance? I'm sure Deadpool's got it in hand, just, you know, better safe than sorry...
Parental Advisory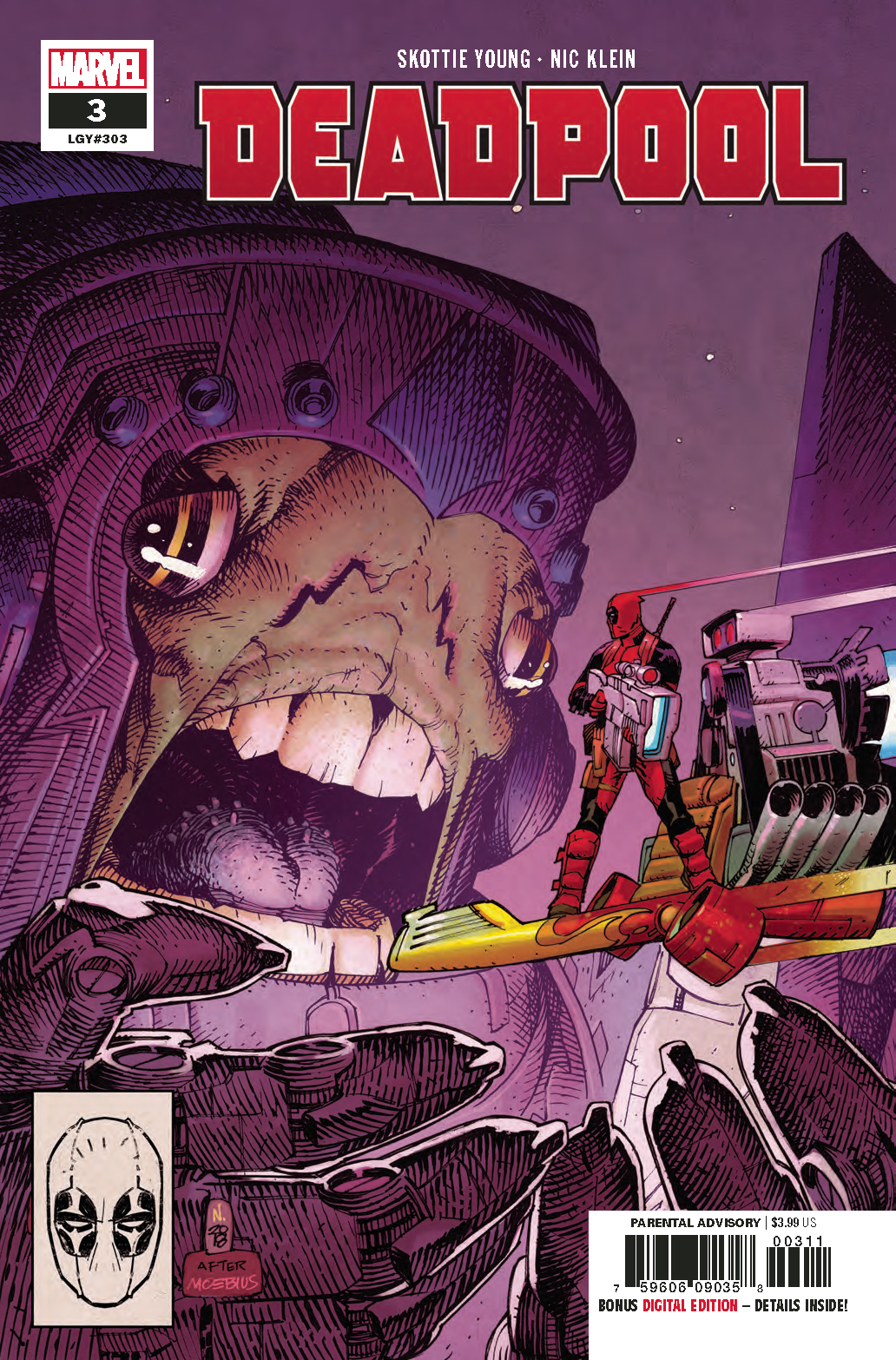 DEATH OF INHUMANS #2 (OF 5)
(W) Donny Cates (A) Ariel Olivetti (CA) Kaare Andrews
SRP: $3.99
JOIN OR DIE!
Attilan died screaming without its king. Now Black Bolt sets out for vengeance against the Kree - and leads the last of his people to their deaths. For the Kree have a weapon of their own...one that will teach the Silent King what it truly means to be voiceless. The massacre continues as Donny Cates and Ariel Olivetti bring the Inhumans to their lowest point in history.
Rated T+
HUNT FOR WOLVERINE WEAPON LOST #4 (OF 4)
(W) Charles Soule (A) Matteo Buffagni (CA) Giuseppe Camuncoli
SRP: $3.99
WEAPON FOUND?
Logan was turned into a weapon long ago - controlled, experimented on, but ultimately lost. Now, Daredevil and his crew learn what happens if someone else takes up that weapon...
Parental Advisory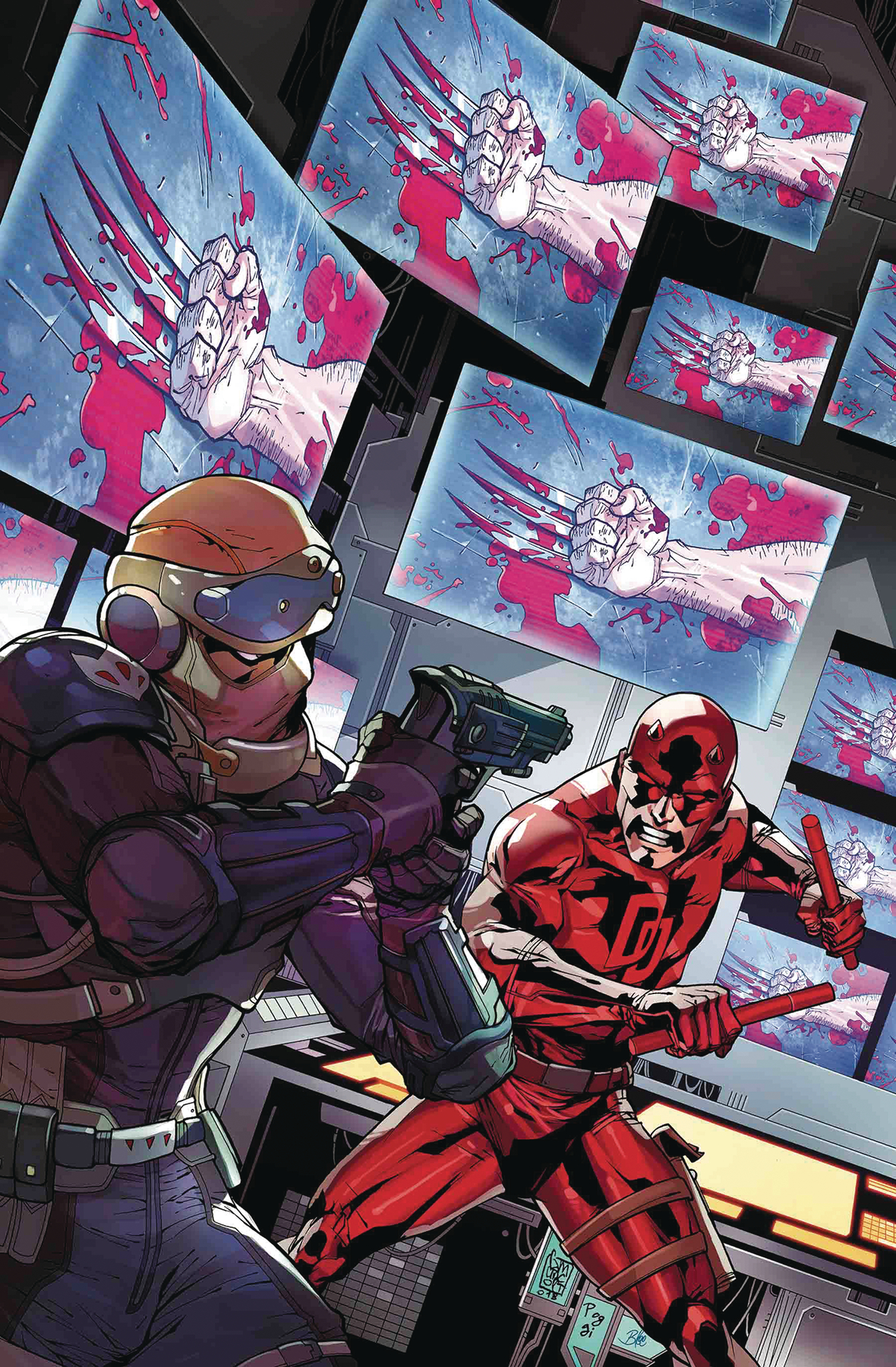 (W) Al Ewing (A) Joe Bennett (CA) Alex Ross
SRP: $3.99
• Walter Langkowski is an ex-football star, a space diplomat and a beloved super hero. Walter Langkowski is charming, healthy and outgoing. Walter Langkowski is the opposite of Bruce Banner.
• And Walter Langkowski is going to die today, because he went looking for Banner...
• ...and found the IMMORTAL HULK.
Rated T+
(W) Gerry Duggan (A/CA) Mike Deodato
SRP: $5.99
As the Infinity Stones come to Earth, so too comes the war for control over them. But none who wield the stones know the truth about the power they contain...or what it would take to bring them to their END. The nature of the universe itself hangs in the balance as we learn the answer to the question on everyone's lips since "Infinity Wars Prime": WHO IS REQUIEM? Gerry Duggan (DEADPOOL, INFINITY COUNTDOWN) and Mike Deodato Jr. (ORIGINAL SIN, OLD MAN LOGAN) look into the Infinite and bring the truth to light!
Rated T+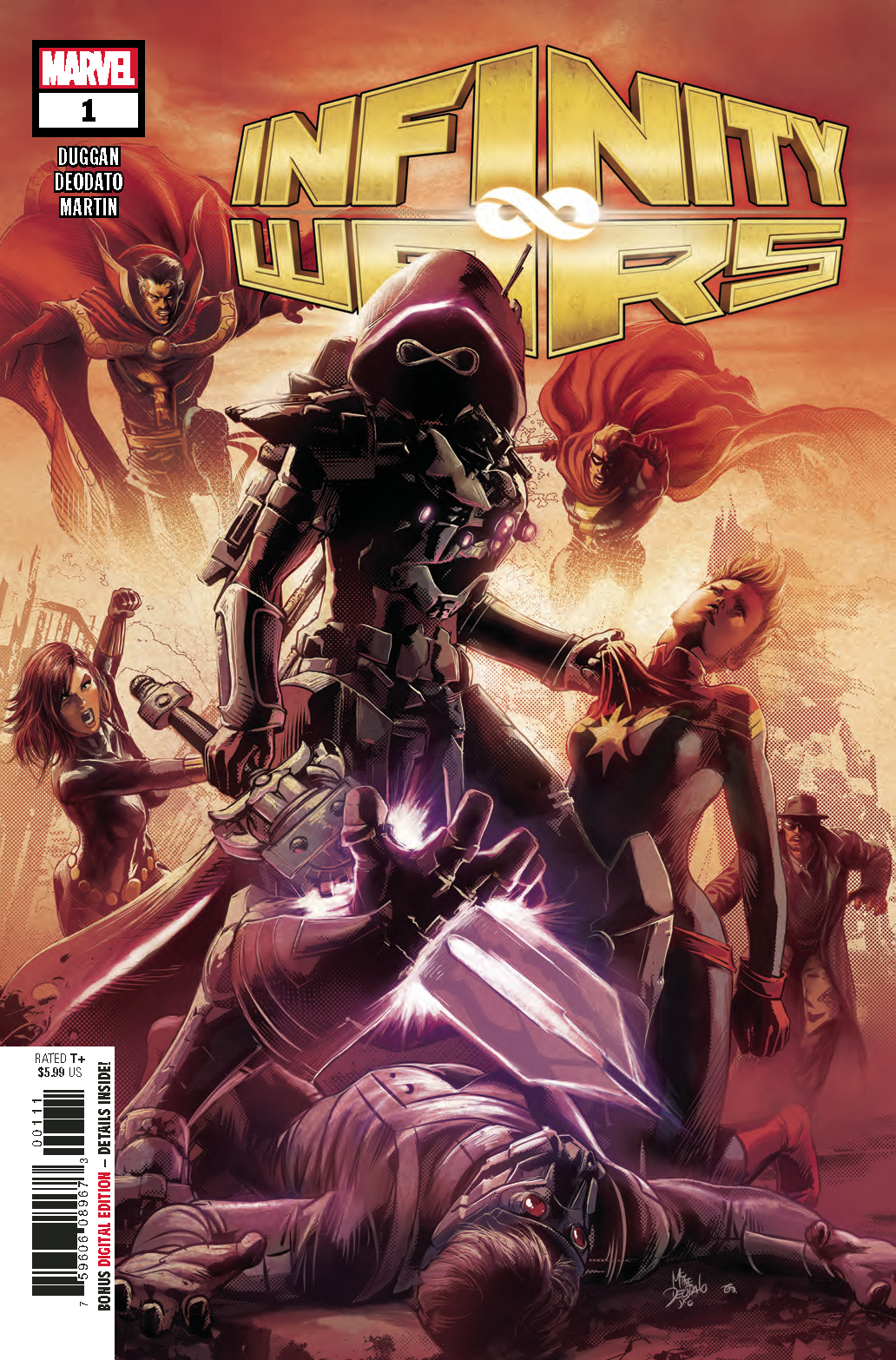 MARVEL RISING MS MARVEL & SQUIRREL GIRL #1
(W) Devin Grayson, Ryan North, G. Willow Wilson (A) Ramon Bachs, Irene Strychalsk (CA) Gurihiru
THE GAME IS UP IN THE PENULTIMATE CHAPTER OF MARVEL RISING!
When Ember Quade traps Ms. Marvel, Squirrel Girl and their friends in a video-game reality, they'll have to fight their way through the terrifying villain hordes of Ember's imagination! But when they reach the final level, even Ember will be surprised at what they find. All the cards hit the table as award-winning writers Devin Grayson, G. Willow Wilson and Ryan North take MARVEL RISING to its heights!
Rated T
(W) Kieron Gillen (A) Salvador Larroca (CA) David Marquez
SRP: $3.99
"HOPE DIES," PART THREE
• The MILLENNIUM FALCON versus the whole IMPERIAL FLEET? No problem.
• A certain TIE ADVANCED STARFIGHTER piloted by a certain SITH LORD? Problem. Big problem.
• No human can save the day. But maybe a droid can...
Rated T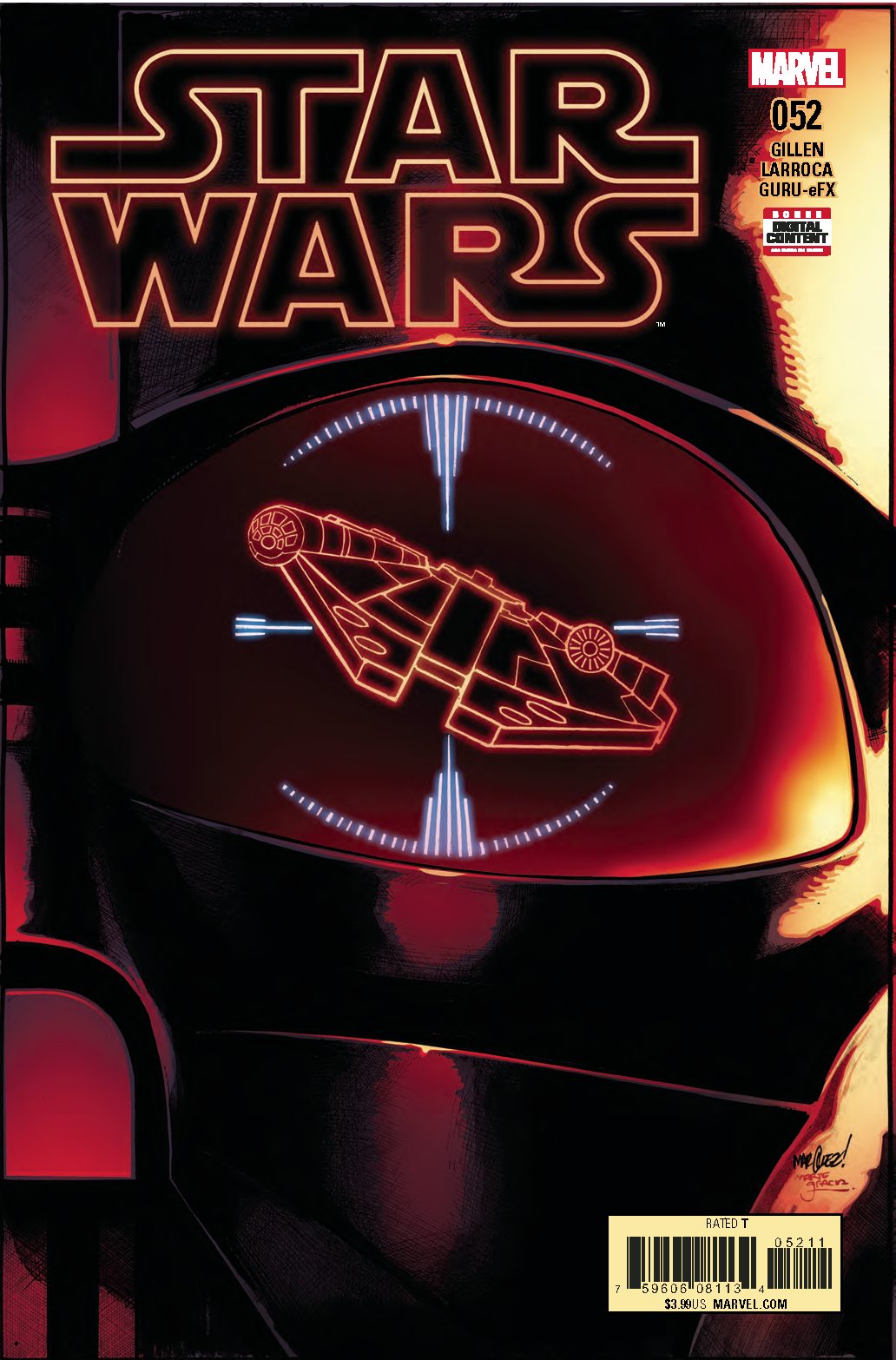 STAR WARS: THE LAST JEDI ADAPTATION #5 (OF 6)
(W) Gary Whitta (A) Michael Walsh (CA) Paolo Rivera
REY CONFRONTS SNOKE AS THE
RESISTANCE FACES EXTINCTION!
• KYLO REN brings REY before the SUPREME LEADER - but who will turn?
• ADMIRAL HOLDO reveals a stunning plan to save the RESISTANCE!
• Plus! The return of CAPTAIN PHASMA as FINN and ROSE are betrayed!
Rated T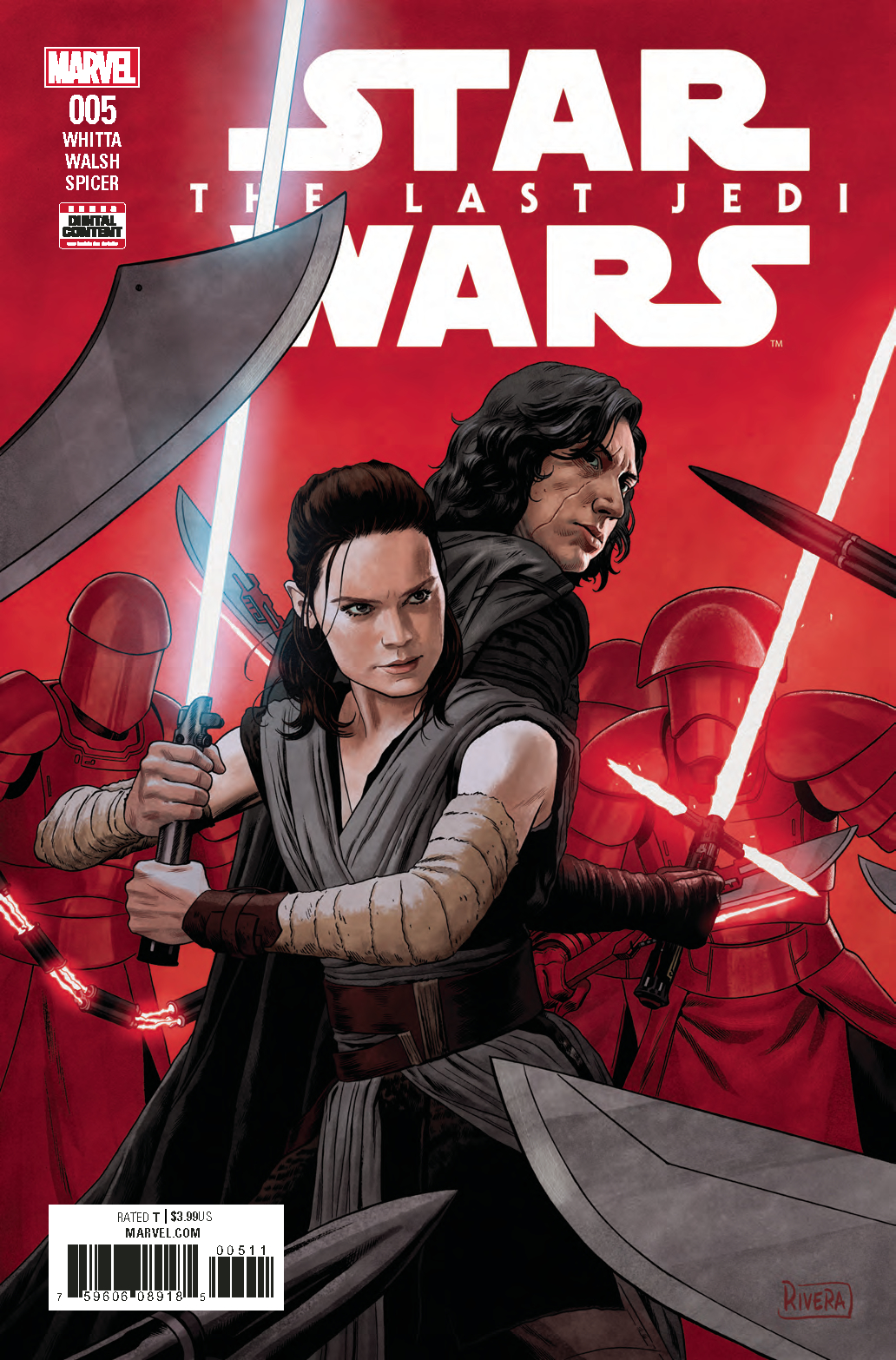 (W) Greg Pak, Fred Van Lente (A) Ricardo Lopez Ortiz (CA) Rahzzah
SRP: $3.99
THE EXPLOSIVE CONCLUSION OF "TEAM WEAPON X"!
• What began as a team of circumstance reaches its only logical conclusion: A GRAVE!
• Warpath and Old Man Logan aren't long for this world, but will Sabretooth rally the rest of the team or sign their epitaph himself?
Rated T+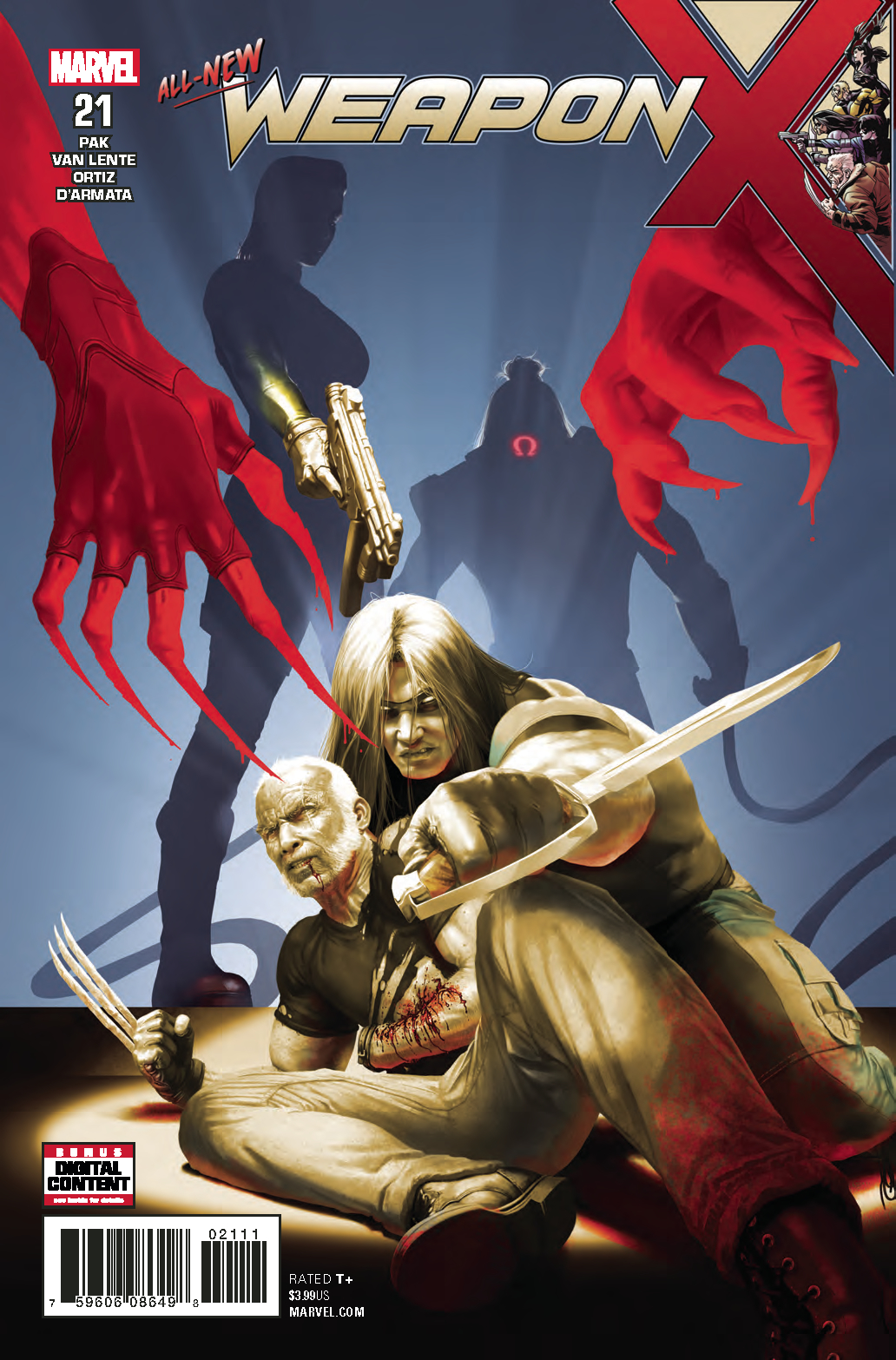 (W) Marc Guggenheim (A) Michele Bandini (CA) Phil Noto
SRP: $3.99
• Storm returns to the Kenyan village that once worshipped her as a goddess!
• But now, with her Stormcaster hammer, it's true...isn't it?
• The truth about Storm's Asgardian hammer is revealed here!
Rated T+
(W) Seanan McGurie (A) Marco Failla (CA) Djibril Morissette-Phan
SRP: $4.99
Your favorite X-Man KITTY PRYDE just made the biggest decision of her tumultuous romantic life, but what set her on that course? Before Peter, Peter, or...Peter, there was Kitty's FIRST kiss! Hugo and Nebula Award-winning writer Seanan McGuire (InCryptid, October Daye, Wayward Children series) and artist Marco Failla (MS. MARVEL, ALL-NEW WOLVERINE, Harley Quinn) reveal the secrets of young Kitty's summer at Camp Maplebrook in a story with more teen mutant angst and camp hijinks than can be contained in a regular-sized issue! Kitty's kept this tale to herself for years - be the first to find out why!
Rated T+