(W) Brian Michael Bendis (A/CA) Patrick Gleason
SRP: $3.99
A bold new era of the adventures of the Man of Steel continues as bodies fall from the sky and buildings burn around the City of Tomorrow. Even Superman must wonder how well he knows the city he protects as an unknown criminal element begins to rise throughout Metropolis.
(W) Dan Jurgens (A) Will Conrad (CA) Viktor Kalvachev
SRP: $3.99
Batman's got a bull's-eye on his back in part four of "Target: Batman." Thanks to the machinations of the Scarecrow, the entire city of Neo-Gotham is looking to take aim at the Dark Knight-including his own partner, Robin! Will hero turn against hero when fear is in the air? Elsewhere, former Royal Flusher Melanie Walker looks to upgrade her image and take on a new heroic mantle, so she seeks advice from newsman Jack Ryder-unaware that he's a total costumed Creeper!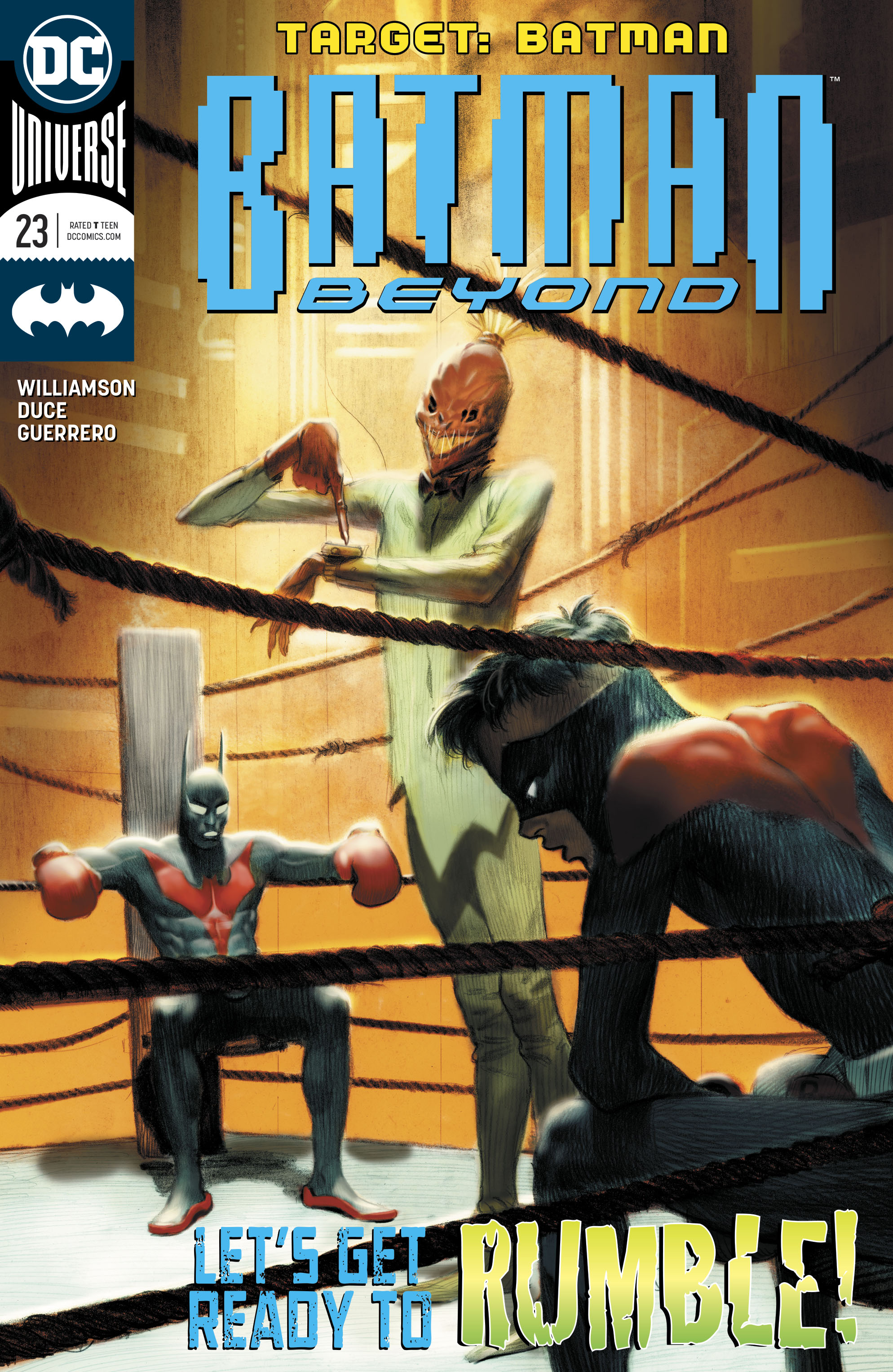 BATMAN KINGS OF FEAR #1 (OF 6)
(W) Scott Peterson (A/CA) Kelley Jones
SRP: $3.99
Legendary artist Kelley Jones makes his triumphant return to the Dark Knight in this explosive miniseries written by former BATMAN editor Scott Peterson! Batman's been overseeing Gotham City for years now and isn't sure how much of a difference he's making. Doubt, fear and insecurity are starting to take over. And as all of those negative feelings set in the Scarecrow orchestrates a riot at Arkham Asylum to give the Dark Knight one of his greatest challenges yet! This six-issue miniseries will see the Scarecrow in a horrifying new way that you'll have to read to believe.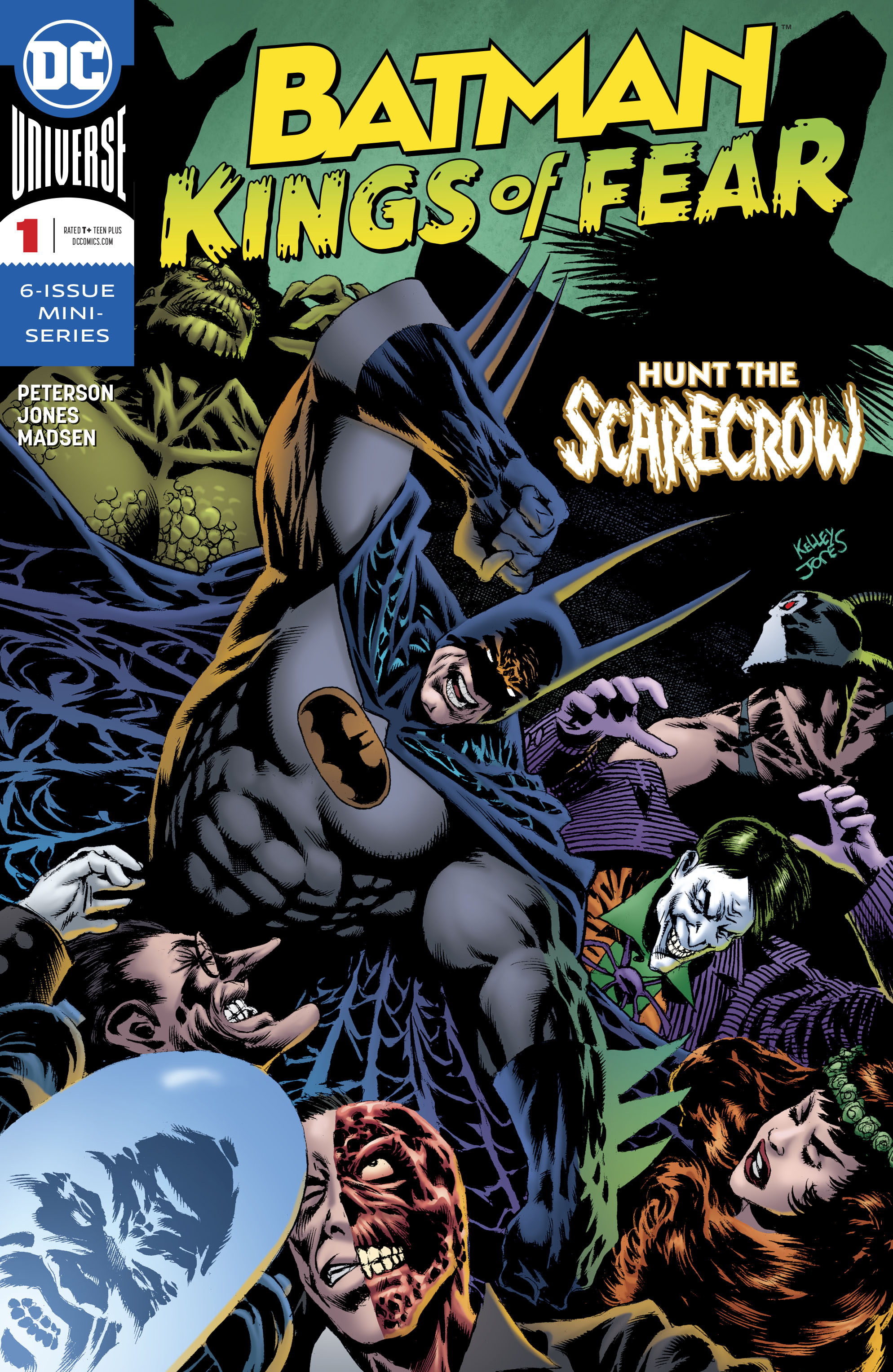 (W) Robert Venditti (A) Diogenes Neves (CA) Aaron Lopresti
SRP: $4.99
Damage's earliest origins are revealed with an issue that delves into what made soldier Ethan Avery volunteer to become the monstrous, living weapon of mass destruction. Also discover what happened to the other recruits to the top-secret program that birthed Damage and tasked him with destroying any enemy trying to create their own monster on a leash.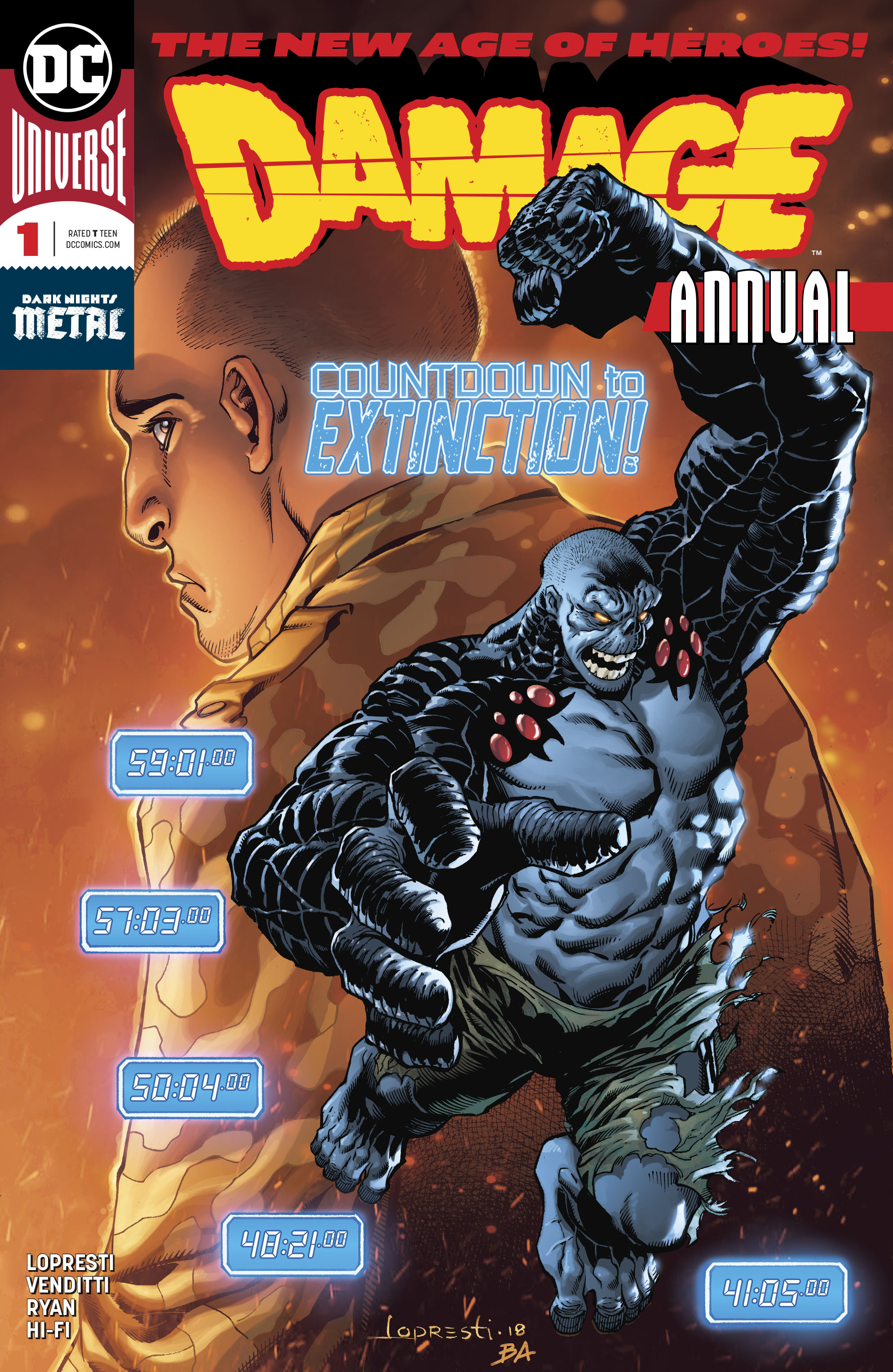 (W) Bryan Hill (A) Miguel Mendonca (CA) Eddy Barrows
SRP: $2.99
Then, the pulse-pounding "On the Outside" storyline hurtles toward its cataclysmic conclusion! Batman has tasked Katana, Black Lightning, the Signal and Orphan (a.k.a. Cassandra Cain) with stopping a rogue operator using alien technology that can crack into any mind on Earth! What does this case have to do with the Brainiac Files seen in JUSTICE LEAGUE: NO JUSTICE #1? And how does Amanda Waller factor in? Guess you're "outside" of Batman's circle of trust... for now.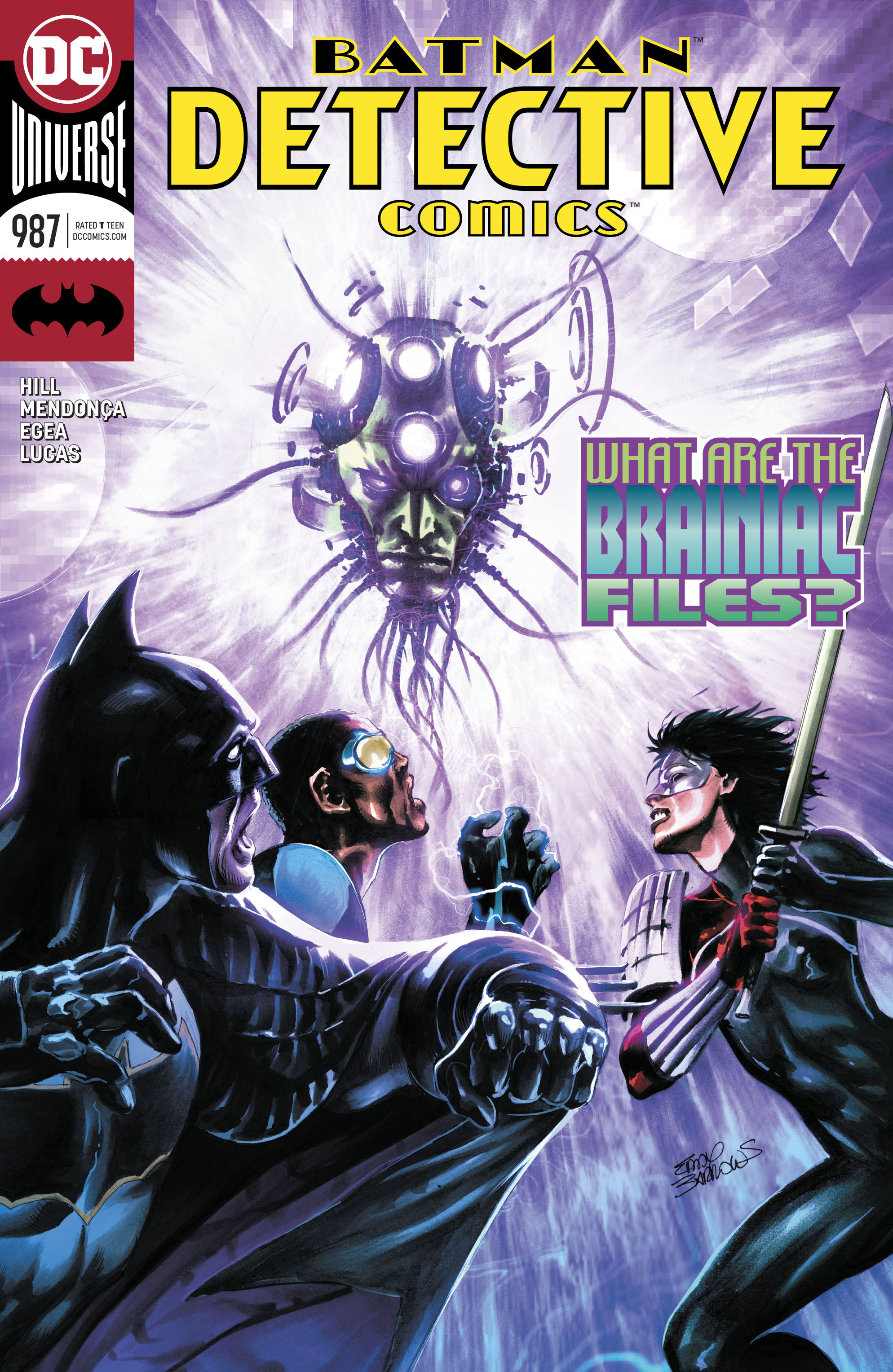 (W) Joshua Williamson (A) Christian Duce (CA) Dan Mora
SRP: $3.99
It's a slippery slope for the Scarlet Speedster when he must team up with the frosty Commander Cold to stop a powered-up Trickster from trashing Central City. The Trickster's first target is the maximum-security prison Iron Heights, which could mean a criminal breakout the city would never survive.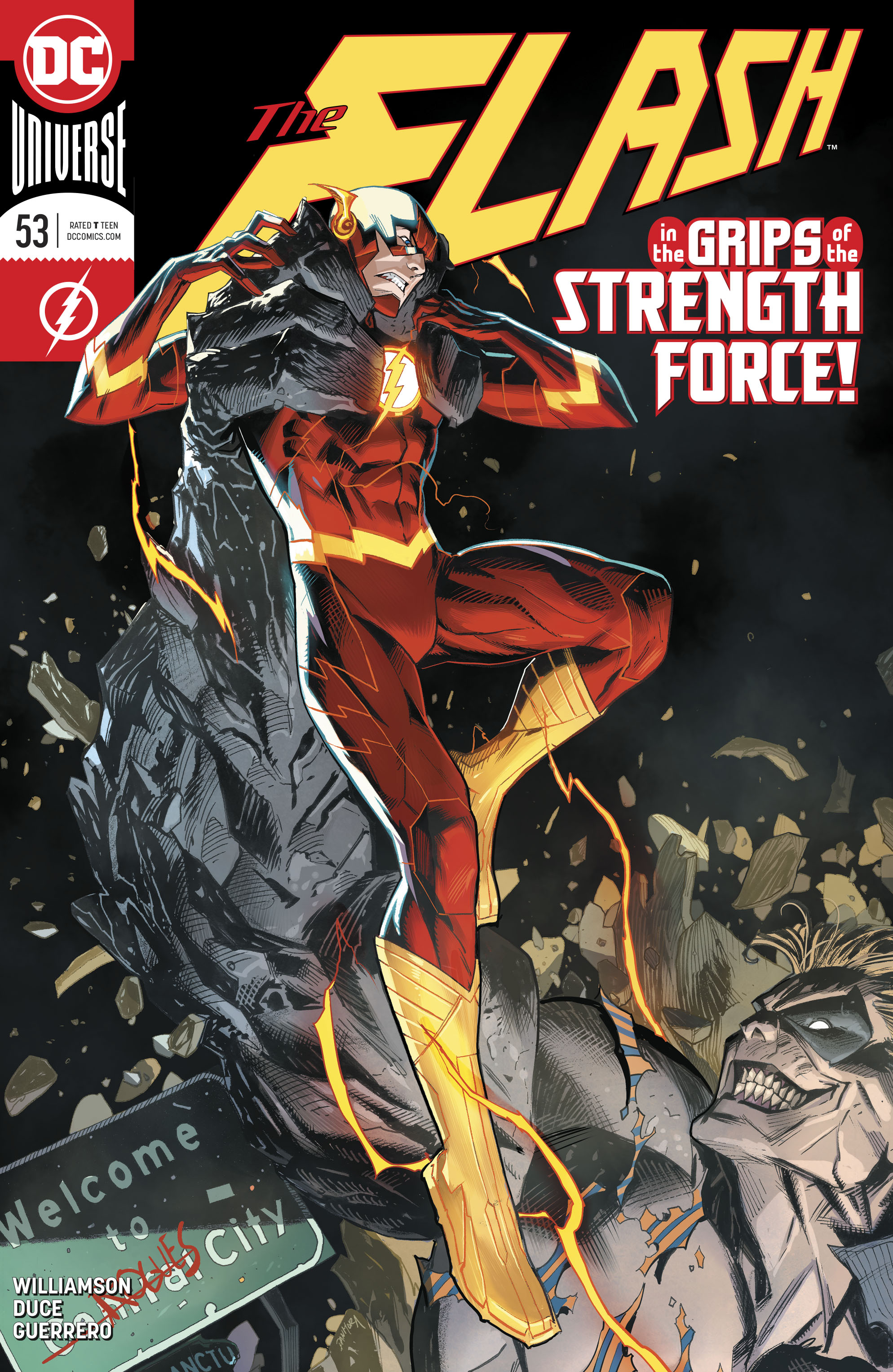 (W) James Tynion IV (A/CA) Alvaro Eduardo Martinez Bueno, Raul Fernandez
SRP: $3.99
Plagued by a rash of otherworldly resurrections, the new JLD team begins scouring the shadowy corners of the DCU looking for leads. Turns out, this latest mystery ties back to the Tree of Wonder, last seen laying down roots in JUSTICE LEAGUE: NO JUSTICE-and it bears poisoned fruit to boot. The Tree serves as a doorway from the Realm of Magic to our world, and the Upside Down Man is just the first of many all-powerful mystic entities looking for a new haunt. It's gonna take a major twist of fate for our heroes to get out of this one...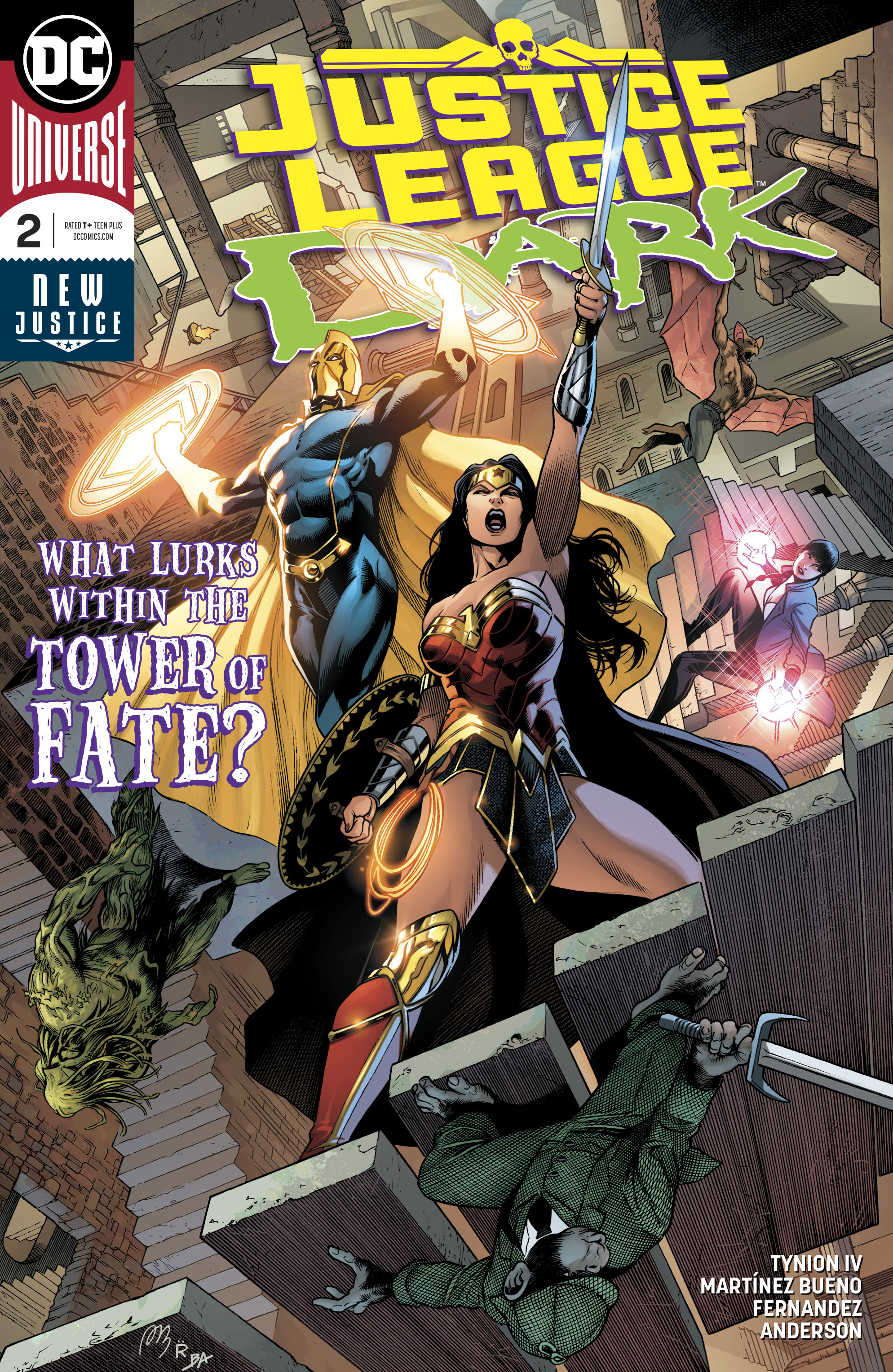 MOTHER PANIC GOTHAM A.D. #6 (MR)
(W) Jody Houser (A) Ibrahim Moustafa (CA) Tommy Lee Edwards
SRP: $3.99
Mother Panic must face all her demons-spiritual and biological-in this issue as she learns the true fate of the Violet of this world. Sibling rivalries, archnemeses and more square off against Mother Panic in this, the ultimate issue of GOTHAM A.D.!
RAVEN DAUGHTER OF DARKNESS #7 (OF 12)
(W) Marv Wolfman (A) Pop Mhan (CA) Philip Tan
SRP: $3.99
A band of mysterious assassins have the supernatural heroes of the DC Universe in their crosshairs! Who is behind it? Baron Winters recruits a very reluctant Raven to find out...and to stop them! But can he convince her to join his all-new Night Force?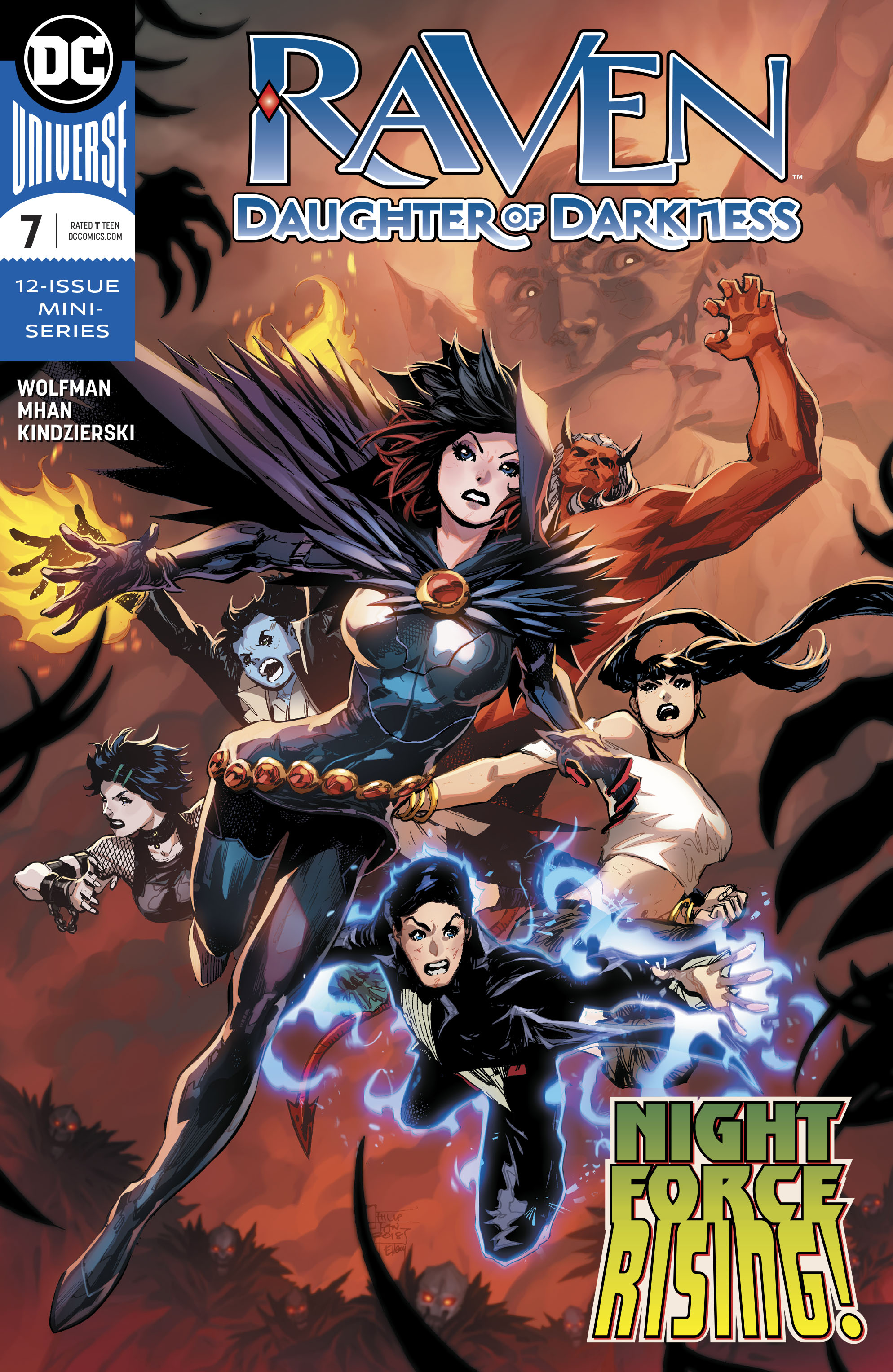 (W) Sholly Fisch (A/CA) Scott Jeralds
SRP: $2.99
When heiress Penelope Pitstop is threatened by a mystical menace, Scooby and the gang think the solution to the mystery is obvious: the culprits must be those seven notorious gangsters, the Ant Hill Mob. But our heroes don't know the Ant Hill Mob constantly saves Penelope from danger! With her pint-sized protectors locked in a jail cell, who can rescue Penelope from the malevolent machinations of the real villain, the Hooded Claw?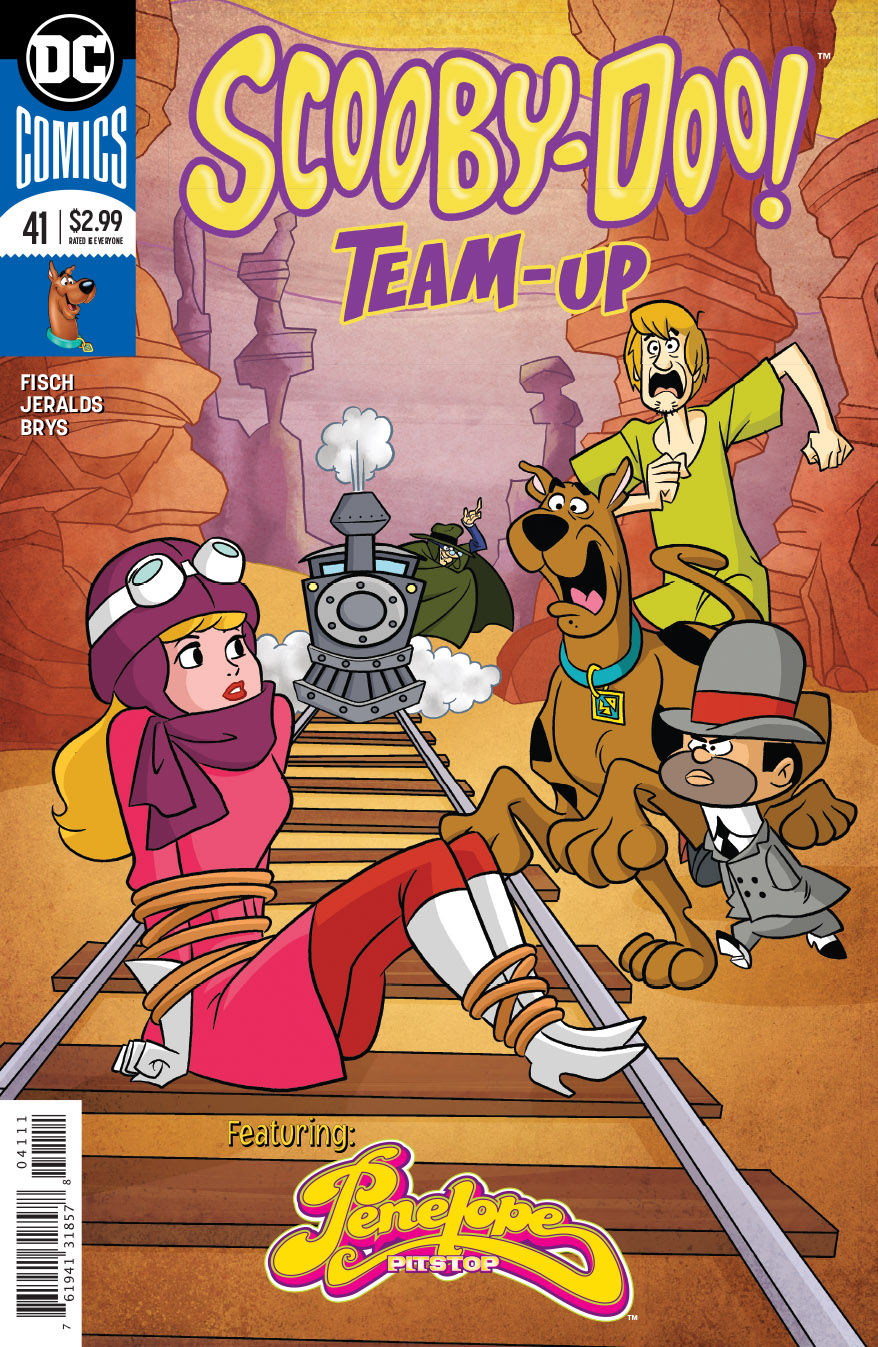 (W) Dan Abnett (A) Patrick Zircher (CA) Jonathan Glapion, Viktor Bogdanovic
SRP: $2.99
So far, Silencer's family vacation gets zero stars on review websites, and things are only looking worse from here on out. Silencer races to stop Talia al Ghul's loyalists from reviving her in a Lazarus Pit, but she's got TWO heavy hitters on her tail: meta-hitman Quietus and mystical psycho Wishbone, who's about to unleash some body-swapping shenanigans on everyone involved with this caper. And are you ready for a trip to Action Land, the Superman theme park? "Hell-iday Road" starts here!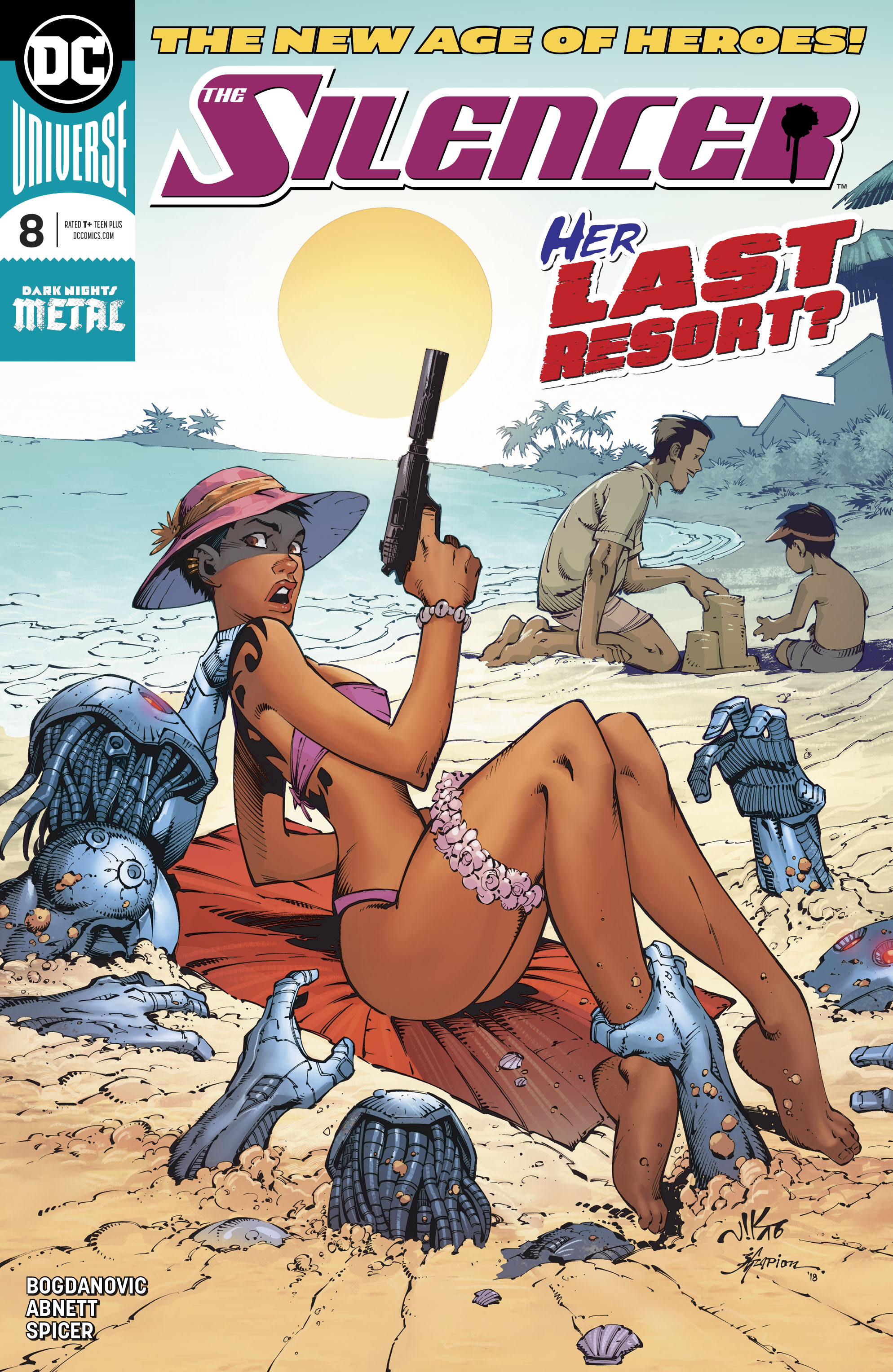 (W) Cullen Bunn (A) Ronan Cliquet (CA) Paul Pelletier, Mick Gray
SRP: $4.99
Thrown together to apprehend an escaped inmate, Solomon Grundy, Rag Doll and Merlyn head into the muck surrounding Belle Reve, but no one is prepared for a meeting with the Swamp Thing. Bodies decay quickly in the bayous of Louisiana, and the avatar of the Green doesn't care if the Squad makes it out alive.
(W) Adam Glass (A/CA) Bernard Chang
SRP: $3.99
Next up on the Teen Titans' target list is none other than longtime antagonist Gizmo, whose neighborhood toy store secretly serves as a front for his arms-dealing business. (You can get a Nerf blaster and a rail gun? Cool!) But this whole escapade is about to blow up in their faces when they find Gizmo strapped to an atomic bomb that's about to go off-right in the middle of New York City. And it's rush hour to boot? Nice knowing you, Big Apple!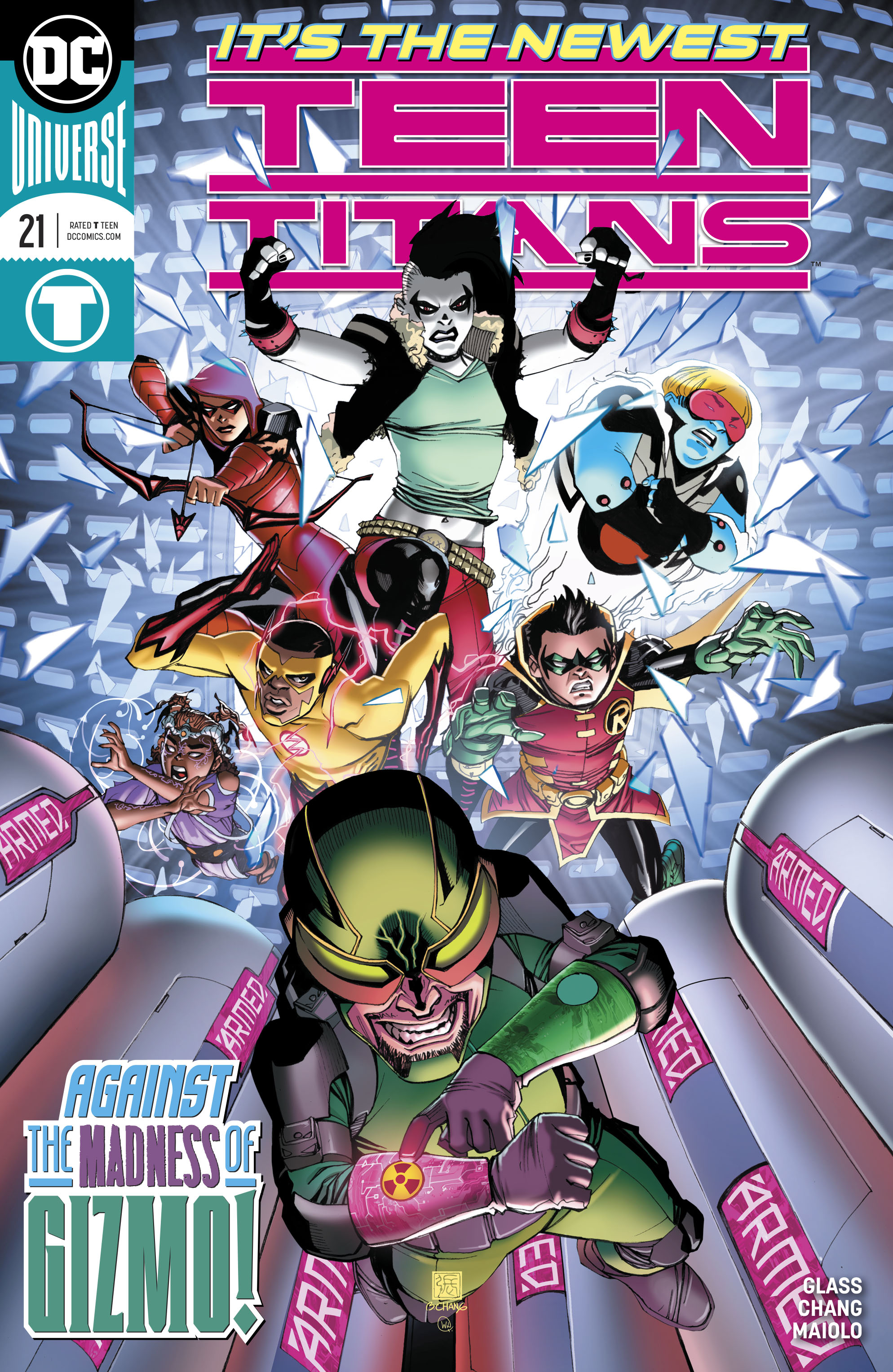 (W) Jeff Lemire (A/CA) Dale Eaglesham
SRP: $2.99
Welcome to Millennium City in part one of "Tom Strong and the Terrifics"! To cure themselves of the Dark Energy bond that's gripped them, the Terrifics use the Dark Multiverse antenna to track down the one man who can help them-Tom Strong. In Millennium City, the Terrifics follow Strong's signal, only to find his lab destroyed and his loyal A.I. aide Pneuman shattered. And the weirdness doesn't end when a mystical tree transports the team across the universe.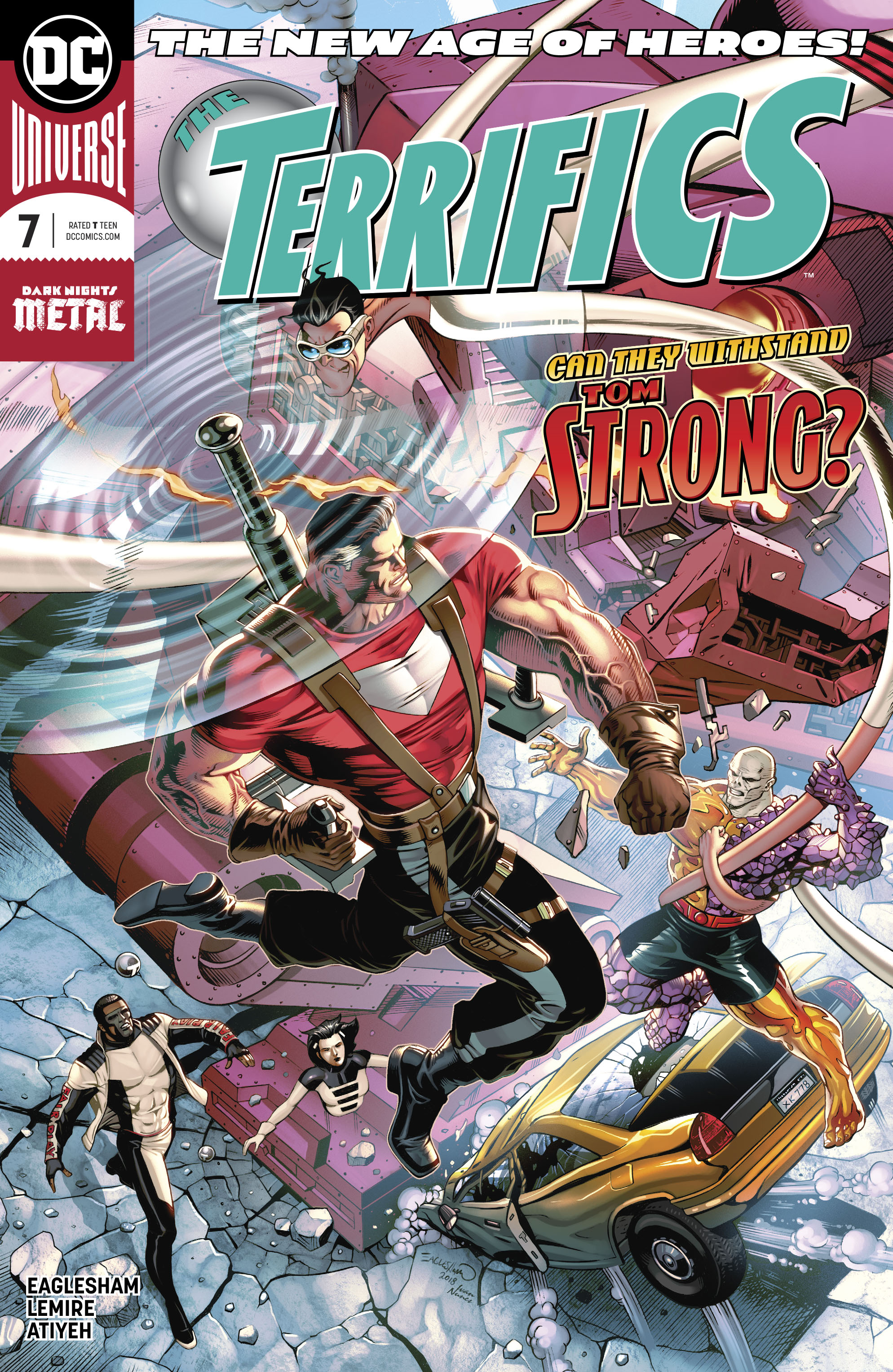 (W) Steve Orlando (A) Aco (CA) David Yardin
SRP: $3.99
At the behest of Aztek, Diana and Artemis join her for a trip to Mexico, but there's no sightseeing on the agenda. Instead, they must rescue a long-lost Amazon who's being held captive by rogue deity Tezcatlipoca, who's trying to break into our world. Can our three heroes save the missing Amazon, stop a raging god and not kill one another in the process?